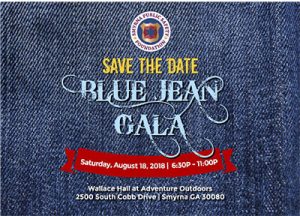 If you ever have to dial 911, what do you expect to be the outcome? Professionals with the highest level of expertise and professionalism to respond. The Smyrna Public Safety Foundation (SPSF) is dedicated to support the professional endeavors of the public safety agencies within Smyrna and is dedicated to improving the quality of life for those who live or work in the City of Smyrna and surrounding communities.
The 2018 Blue Jean Gala is Aug. 18 in Wallace Hall at Adventure Outdoors, 2500 South Cobb Drive, Smyrna. The title sponsor is The Charyn Darby Foundation. This event is different from others in the community because it allows attendees to spend the evening with our local heroes and all funds raised stay here in the Smyrna community to promote and support the many important initiatives of the Smyrna Fire and Police Departments.
"We strive to ensure that each police officer and firefighter is qualified, trained, and equipped to perform at the highest levels of professional standards," said Barb Allen, executive director of the Smyrna Public Safety Foundation.  "Funds raised at this year's Gala will be dedicated to funding some critical training and equipment that is outside their operating budgets."
Annually, the SPSF sponsors the Smyrna Public Safety Awards and Recognition banquet where these Heroes are recognized for their exemplary service to the community. In December, the SPSF teams up with the Smyrna elementary schools and takes youth on a shopping spree for the Shop with a Hero event.
Make plans now to attend the Annual Blue Jean Gala. Ticket price includes live entertainment, dinner and beverages. There will be numerous unique raffle items as well as silent auction items, many which are experiences involving public safety.
At this event you are encouraged to dress casual (jeans and your favorite accessories are totally acceptable). There will be a photo booth available where you can memorialize the event.
For more information and purchase tickets, visit the website at www.smyrnapsf.org,  send an email to admin@smyrnapsf.org, or call 404-791-6935.
From the July 2018 issue of The Bright Side, Cobb County Georgia's Newspaper covering Smyrna, Vinings, Mableton, Powder Springs and Austell, GA.