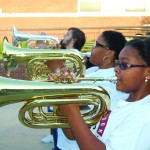 On Aug. 3 a new school year — and a New Look — began for students of Pebblebrook High School. This year, the first day of school was transformed into a celebration, as students were introduced to The Academies of Pebblebrook, a new brand of education that engages every student with a choice, and a path to college or career – or both.
To initiate its shift in academic and community focus, the Cobb County School District is partnering with Usher's New Look, Inc., a 501(c) (3) charity founded by singer and performer, Usher Raymond in 1999 in Atlanta.
Every freshman will participate in his New Look Program, "Powered by Service." Over the past 16 years Usher's New Look has engaged more than 24,000 youth in cities across the U.S. to become more personally involved in their futures by participating in community service projects and community-building activities.
"The New Look model is unique. Think of us as a youth leadership incubator cultivating the next wave of change makers in the Cobb Community. By week's end, over 600 youth will receive leadership certification backed by Emory University's Goizueta Business School with a charge to begin serving within their local communities," said Yvette Cook, New Look President and CEO.
"We want to inspire a renewed passion for learning, and a sense of possibility and purpose among our students, their teachers, parents and the entire community," says Chief Academic Officer, Mary Elizabeth Davis. "This approach gives every student choices about their future. We're saying, 'We believe in you. We know your future has no limits."
With the launch of the Academies of Pebblebrook, all non-magnet members of the class of 2019 will choose from two distinct areas of study: The Academy for Creative Studies and the Academy for Global Service. The new academies echo the goal-based approach created by The Cobb County Center for Excellence in the Performing Arts, which has been at Pebblebrook High School since 1983.
The Academy for Creative Studies includes focused content in the fields of Hospitality, Fine Arts and Instrumental Performance and Arts and Entertainment Leadership, while the Academy for Global Service offers majors in Social Innovation, JROTC, Communications, and Allied Health Science.
Each focused area of study provides students with real-world opportunities and problem-solving techniques, so they can apply their knowledge while learning practical business and social skills.
"We are investing in the lives and futures of every student," said Chris Ragsdale, Superintendent of the district. "Pebblebrook can become a beacon for education, as well as a catalyst for community and economic development. Our goal is to strengthen graduation rates and give all students the opportunity to pursue post-secondary training and education."
Ragsdale adds that the partnership with Usher's New Look is a significant opportunity for the district and, more importantly, for the students of Pebblebrook HS.
In addition, Usher's Music Leadership course will be available for all freshmen. Plans are currently in development to complete the Academy pathways for the 10th, 11th, and 12th grade years.
"We are pulling out all the stops here," says Davis. "There is so much potential in each student and in this school. And now we have the innovative tools in place to support students in reaching their goals. The sky's the limit."
Throughout the week, Usher's New Look will conduct trainings around the organization's four pillars—talent, education, career and service. The pillars reflect the guiding principles embraced by Pebblebrook within its new academic structure. All incoming Pebblebrook freshman will participate in Powered By Service as a part of this year's "freshman experience".
As part of the Academies at Pebblebrook kick-off, artist Lindsay Ryden, a volunteer with Paint Love, will be on campus all week helping students create a mural inspired by Pebblebrook's new motto of "Believe You Can." Gregg Street from V103 and comedian Rickey Smiley will also be on hand to engage students as they learn about the school's new academic approach.
From the August 2015 issue of The Bright Side, Cobb County Georgia's Newspaper covering Smyrna, Vinings, Mableton, Powder Springs and Austell, GA.