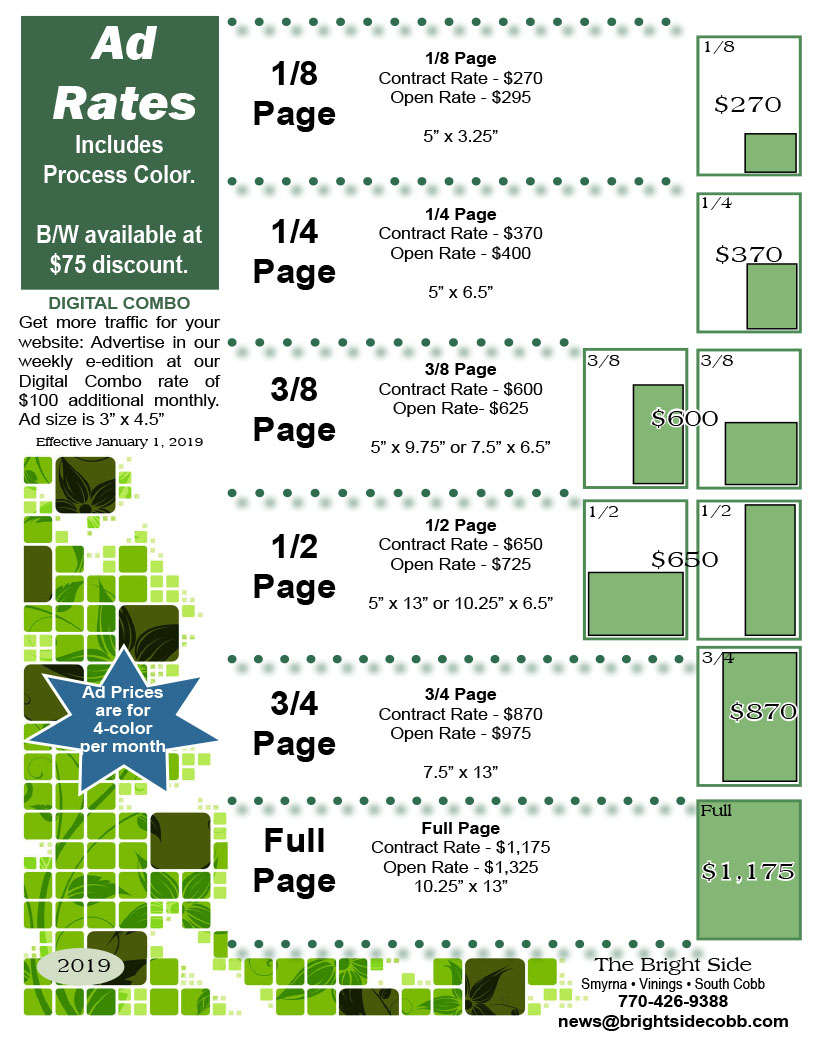 THE BRIGHT SIDE IS YOUR COMMUNITY NEWSPAPER
Commit to advertising three times in a row and we'll write
a story about you and your business.
Some restrictions apply, content is subject to approval by publisher, contact publisher for details.
Send news and ads to news@brightsidecobb.com
ADD COLOR – 4 Color Process and Spot Color – $75
Updated June 2019.
Testimonials
Here's what our advertisers and readers say about The Bright Side:
"Thank you so much for both of the wonderful articles in the Mableton and Smyrna/Vinings and South Cobb editions of Bright Side for the Smyrna Village Players production of 'Oliver the Musical' in July. We had a tremendous amount of people tell us that they did not know about our summer stock production and they found out about the production from The Bright Side. These articles truly helped boost our sales for the production, which increased revenue, which will allow us to give more to our mission projects. Thank you so much and I hope we can work together on future endeavors."   — Dr. Kimberly Withka, Director of Music & Fine Arts, Smyrna First UMC
"Every issue that comes out, the weekend after, we see at least a dozen new faces. They all say that they saw it in The Bright Side." — J.D. Smith, Neighbors Feed and Seed, Smyrna
"I get a call every month when the paper comes out. There hasn't been a month when I haven't gotten a call from the ad." — Jason Raper, Jasons' Lawn Service
I am very happy with the Bright Side. It provides new business for me and is one of the top three ads I use. I highly recommend it. — Greg Snyder, Little Bear Tree Service
The Bright Side • 3330 Cumberland Blvd., Suite 500 • Atlanta, GA 30339 • 770-426-9388
Send your news and ads to news@brightsidecobb.com