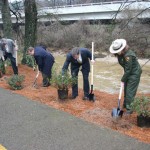 Officials broke ground Friday, Feb. 22, to celebrate the beginning of construction for a new trail segment, Akers Mill Trail East.
The 1.2 mile trail will connect the existing Bob Callan Trail to National Park Service at the Chattahoochee River's Cochran Shoals Recreation Area.
The $2.5 million project will be entirely funded by commercial property assessments from the Cumberland Community Improvement District. Cobb County government funds are not involved.
It will contribute to the 25 miles of trail networks planned in and around Cumberland. About 16 miles of those trails already exist. Above, participants plant shrubbery along the banks of the Chattahoochee.