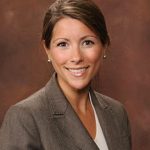 WellStar Health System announced Callie Andrews as WellStar senior vice president and president of WellStar Cobb Hospital. Previously, Andrews served as the hospital's chief operations officer (COO) for the past two years.
"Since opening as Cobb General 50 years ago this summer, WellStar Cobb Hospital has seen tremendous growth and innovation under the leadership of a distinguished group of hospital presidents," said Carrie Owen Plietz, WellStar executive vice president & chief operations officer, Hospitals Division. "Callie will continue this legacy as she has demonstrated a constant focus on improving patient care, safety and experience and increasing team member engagement."
Andrews brings more than 10 years of executive hospital administration experience to this role, including the past two years at WellStar Cobb Hospital. Her recent accomplishments include serving as hospital executive lead in operationalizing WellStar Vinings Health Park, overseeing several WellStar expansion and renovation projects totaling more than $35 million, and leading the development of a new cancer center and pediatric burn program at WellStar Cobb Hospital.
"It's an honor to be named president of WellStar Cobb, especially during such a monumental time as the hospital celebrates its 50th anniversary," said Andrews. "WellStar Cobb is a beacon for the community and along with our experienced management team and world-class caregivers and physicians, I look forward to exceeding the expectations of our patients and community."
Before joining WellStar, Andrews held several roles at Hospital Corporation of America (HCA), serving as COO and ethics and compliance officer at HCA's Eastside Medical Center in Snellville, Georgia and associate COO at HCA's Redmond Regional Medical Center in Rome, Georgia. Andrews has master's degrees in business and healthcare administration from The University of Alabama at Birmingham and a bachelor's degree from The University of Georgia.
With 382 beds, WellStar Cobb Hospital offers several exemplary programs, including a recently renovated burn and wound unit, a state-of-the-art cardiac program and a private maternity center. Additionally, the hospital is the only one in Georgia to receive meritorious status for surgical patient outcomes from the American College of Surgeons National Surgical Quality Improvement Program and is one of only six baby-friendly facilities in Georgia.
In addition to her professional accomplishments, Andrews is active in the community, serving on the boards of Safe Path Children's Advocacy Center and South Cobb Business Association. She is also involved in the Georgia Chapter of the American College of Healthcare Executives, currently serving as president-elect.
From the May 2018 issue of The Bright Side, Cobb County Georgia's Newspaper covering Smyrna, Vinings, Mableton, Powder Springs and Austell, GA.