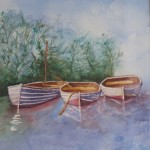 The Taylor-Brawner House Foundation and the City of Smyrna are excited to announce their second annual Fine Art Exhibit and Sale, to be held at Smyrna's historic Taylor-Brawner House, 3182 Atlanta Road, from Friday April 10th to Sunday April 19th.
This complimentary exhibit and show will feature the work of 23 of the region's most talented painters, weavers, crystal sculptors, wood turners and carvers, and all the pieces on display will be one-of-a-kind originals.
The award winning artists have hand selected some of their best work and every creation will be available to admire or purchase.
Some of the featured artists include Claire Colquitt Curtis, Marsha Savage, Barbara Kincaid, Sarah Monsour, Thom Lillie, Karen Margulis, Wanda Crane, Ronnie Offen, Richard Herklotz, B.J. Hatcher, Kristina Havens, Sue Dean and Rebecca Brown.
Join us for the opening day reception, Friday April 10th from 6 to 9 p.m. The house will also be open daily from April 11th to April 19, noon to 6 p.m. Every day a different artist will be in attendance to demonstrate their craft and answer your questions.
Come celebrate with us and enjoy the work of many of the region's most gifted artists.
From the April 2015 issue of The Bright Side, Cobb County Georgia's Newspaper covering Smyrna, Vinings, Mableton and Austell, GA.