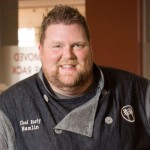 Zac Brown and his merry band of music makers have teamed with executive chef Rusty Hamlin for a new TV series, Rusty's RockFeast: Backstage With Zac Brown Band.
The seven half-hour episodes, which begins airing tonight (July 23) on FYI network, take viewers behind the scenes of ZBB's Eat & Greets, the sit-down meals that ZBB hosts for 150 fans before many of their shows.
Hamlin, a chef and partner in Atkins Park Restaurant in Smyrna, was in town recently at the Sprig Jonquil Festival and Crawfish Boil.
Each episode features chef Rusty and ZBB cooking the menu, which is improvised each day based on fresh local ingredients, in a state-of-the-art 18-wheel mobile kitchen named Cookie.
In "Rusty's RockFeast: Backstage with Zac Brown Band," Chef Rusty, Southern Ground's Executive Chef, tours across the U.S. with Zac and the band, cooking up southern cuisine in a state-of-the-art, 18-wheel mobile kitchen named "Cookie." At every tour stop, Chef Rusty and his rock-star culinary team prepare for their famous "Eat & Greets," an intimate, one-of-a-kind, sit-down meal for a few hundred fans of the Zac Brown Band.
Get ready to see the entire meal process, beginning with Chef Rusty and his team arriving in a new city on the band's tour. The culinary team then only has a few hours to source all the ingredients needed for the meal. They explore local farms and markets, and with each menu improvised on the spot from the freshest ingredients available that day, every tour stop presents a new set of obstacles for Chef Rusty and his intrepid team to overcome. To make sure the fans have an experience they won't forget, they never serve the same menu twice.
After graduating from the Culinary Arts Institute of Louisiana, Rusty landed his first job as a line cook at the Belle of Baton Rouge Casino. Following the '96 Olympics, Rusty expanded his culinary horizon by moving to Atlanta. He spent time in several different restaurants before settling in at Atkins Park, where he revamped the kitchen and menu. Rusty then opened a sister location in Smyrna, GA, now over a decade old, where he is the current Executive Chef and owner. After the initial opening, over a decade ago, Rusty met Zac Brown, who was beginning to enjoy local success. As charismatic, larger-than-life southern men who appreciate music, food, and the culture that unites the two elements, the two quickly became good friends.
From The Bright Side, Cobb County, Georgia's Newspaper covering Smyrna, Vinings, Mableton, Powder Springs and Austell, GA.