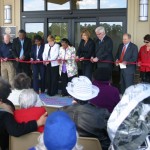 Austell Senior Citizens moved back home last month as the new Austell Neighborhood Senior Center opened with an official ribbon-cutting April 23.  Located in Clarkdale Park on Austell Powder Springs Road, the new center replaces one at Legion Field that was destroyed in the 2009 flooding.
Cobb Senior Services Director Pam Breeden, told the group, "Building this facility is like building the second house you purchase, in that you know what you want, need," she said. "The greatest difference is the courtyard, complete with the raised garden beds, bocce ball courts and room to walk and excercise."
The 5,500 square foot facility will serve several dozen seniors who had gather at a county park on Brownsville Road in Powder Springs since the former building was destroyed. Cobb County residents age 60 and better enjoy structured group activities and programs such as music, crafts, exercise, and special events. Each weekday a hot, nutritious lunch is served in a personal, friendly atmosphere.  Nutrition and health/wellness educational programs are also offered.  Door-to-door transportation is provided based on eligibility.
The $1.5 million facility is being built on land donated by the City of Austell and paid for by insurance and a public-private partnership of donations. The player grand piano next the the electric firelace was donated by WSB-TV and Cooper Music.
Project Manager Allen Kronenberger facilitated the entire project and was presented an award from the participants. "The 5,000-square-foot facility was designed specifically for seniors," he said. "There are things in place such as self-flushing commodes, two switches that control all the lights and a vast amount of space."
In addition to seniors dressed in the Sunday best, the ceremony was attended by local dignitaries, including County Manager David Hankerson,  Rep. Alisha Morgan (D-Austell), Commissioners Woody Thompson, JoAnn Birrell and Helen Gorham,  Commission Chairman Tim Lee.
This new building will garner a LEED certification due to the many energy saving components in the design. Highlights include: high efficiency HVAC system; 46 percent reduction in electrical costs to comparable building; high efficiency light fixtures; added insulation; water efficient plumbing fixtures; 28 percent reduction in water usage to comparable building.
From the May  2012 issue of The Bright Side, Cobb County Georgia's Newspaper covering Smyrna, Vinings, Mableton and Austell, GA.