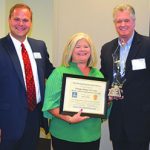 The Vinings Business Association named the Vinings Village Civic Club as its Business or Organization of the Year at the Dec. 2 luncheon.
The Vinings Village Civic Club is the oldest civic organization in the village with nearly a century of service, according to Sharon Meinhardt, president.
The criteria for the honor involves a partnership with the community, longevity, community support and visibility, explained VBA President Charles Rea.
"We present this award for their service to the Vinings community and we thank the Vinings Village Civic Club for their Actions," Rea said. "This group gets people involved in the community. They are the glue that keeps the Vinings community together."
Ms. Meinhardt said she joined the Vinings Village Civic Club three years and one of her first projects was picking up trash on the roads.
"I went from picking up trash to president in one fell swoop," she said.
While non-partisan, the group hosts political forums at each election. This year they heard 47 candidates during the forums.
"Then we invite them back," she said, "to tell us what they are doing."
In almost 100 years of service, the group has proved that "we mean we care about the quality of life of where we live," she said.
Other finalists for Vinings Business Association's Business or Organization of the year were Vinings Rotary, Curves for Women, Fidelity Bank, and Grub Burger.
From the December 2016 issue of The Bright Side, Cobb County Georgia's Newspaper covering Smyrna, Vinings, Mableton, Powder Springs and Austell, GA.