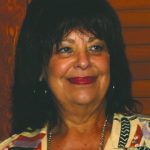 Volunteer, philanthropist and community leader are among the many titles that Barbara Hickey has accumulated in the past two decades. In November she was named South Cobb Citizen of the Year by the Cobb Chamber of Commerce, the South Cobb Business Association and the South Cobb Rotary Club.
"This person has had a long history of service… She has been everywhere in the community, contributing, really pouring her heart into whatever need is there," Cobb Chamber President and CEO Sharon Mason said. "Many of us know her as a great friend, as a mentor in our lives, whether it was her leading Diaper Day or forming the Cobb County Coalition of Business Associations (CCBA) to bring all the business associations together or meeting pretty much any need that was out there for non-profits, she has been there for so many people in this community."
Wayne Dodd, president of the South Cobb Business Association, said Mrs. Hickey "saw a need and came up with a solution."
"Her heart and her love has always been in South Cobb," Dodd said. "Her past efforts will pay dearly for years to come."
Albert McRae, president of the South Cobb Rotary Club, said Mrs. Hickey was always elegant and well spoken. "She's a doer, a person of action. Barbara Hickey represents service over self," he said.
Austin Eads, a past Rotary president said, "now most likely The world is a much better place because of Barbara Hickey, especially in South cob."
Hickey, who is suffering from health problems, was not at the meeting. Her son and daughter-in-law Sean and Cecilia Rowe accepted the award in her place.
Sean Rowe said his mother loves Cobb County and its people, refusing to leave even when her husband Jim Hickey was offered a prestigious job elsewhere.
"She is a beacon of light," Sean Rowe said. "We are so proud of her as a mom, as a citizen, as a grandmother, as a friend… For those of you who loved her for so many years, just know that it didn't go missed. She knows it. She felt every ounce."