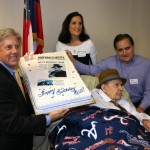 Friends of Bill Kinney gathered at Vinings Bank in June to wish the former Marietta Daily Journal columnist a happy 91st birthday.
Kinney was publisher of the Smyrna Herald until it was merged with the Smyrna Neighbor in the late 1960s.
Former Gov. Roy Barnes described "the Old Scribbler" as a local institution. "He's been the keeper of secrets and someone to bring about change."
"I never told Mr. Kinney anything off the record," said former Congressman Buddy Darden, "because it wouldn't do any good anyway."
Former Supreme Court Justice Conley Ingram, who also served as Smyrna City Attorney, reminded the crowd about Kinney's coverage of the Smyrna City Council and the shenanigans of several mayors and council members.
Cobb Chairman Tim Lee presented Kinney a proclamation honoring him for his 75 year career in journalism.