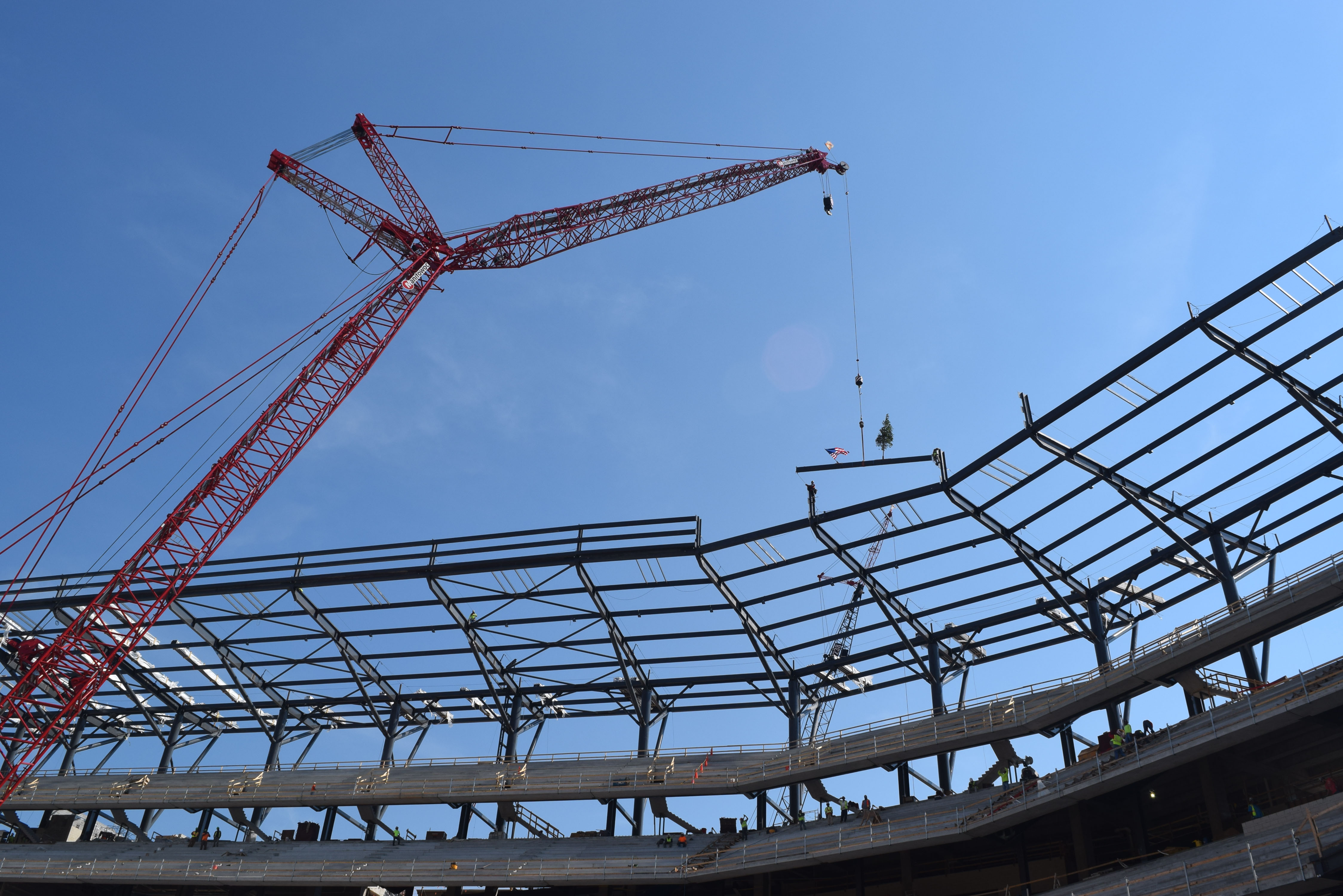 The Atlanta Braves marked another milestone in the building of the $672 million mixed-use SunTrust Park June 13 in a topping out ceremony for the steel structure.
Braves officials, county officials, press and other dignitaries marked the raising of the topmost steel beam of the project, including the placement of a ceremonial tree and American flag to mark the highest point of the completed frame. The ash tree was selected because its wood is used to make baseball bats.
Officials and construction workers were provided a chance to sign the 1,400-pound beam before its placement 155 feet above field level. The ballpark is scheduled to open in April 2017.
"It's a major milestone," said Braves Chairman Terry McGuirk. "The contractor is on time and on budget. Everything looks good. This project is a major tipping point in the community economically."
Some 6,800 tons of structural steel have been used in the building of the ballfield with 140 ironworkers – both men and women – and "thousands of construction workers" on site installing 6,800 tons of steel framework. If laid end to end, that amount of steel would stretch 50 miles.
"This is a park, not a stadium, a place to relax and cheer," said Jenner Wood, CEO of SunTrust Banks. "It is built only for baseball."
Chairman Tim Lee noted that the project will bring in enough revenue for county schools over the next 10 years, approximately $120 million, to pay for 290 new teachers.
"We've known from the very beginning this was going to be a very aggressive schedule," said Mike Plant, the Braves' president of development.
From the July edition of The Bright Side, covering Smyrna, Vinings, Mableton, Austell and Powder Springs in Cobb County, GA.