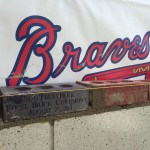 The Atlanta Braves marked the halfway point in the construction of SunTrust Park August 27 by laying a ceremonial first brick.
According to Terry McGuirk, Braves CEO, the brick work is the main decorative exterior element of the ballpark. "We are running ahead of schedule and on budget."
John Schuerholtz, Braves President, credited good weather over the summer for the speed of the construction. He pledged that it would be ready for the first pitch in April 2017.
Eustis Morris of Senoia, who also laid bricks at Fulton County Stadium and Olympic Stadium, placed the first brick at SunTrust Park. He placed a 50 cent coin under the brick, a tradition among masons for important buildings.
Elected officials, building staff and Braves personnel also placed bricks on the fresh mortar. Braves Legend Hank Aaron told the group "as a little boy I learned a little but about laying bricks."
Bill Rogers, Chairman and CEO SunTrust Bank, called the event "a great milestone for the park."
Braves First Baseman Freddie Freeman and Commissioner Tim Lee were joined by Michelle Lopez, a fifth grader at Brumby elementary, in placing items in a time capsule – including signed baseballs, a recording of the groundbreaking ceremony, new items and dirt from Turner Field and Atlanta Fulton County Stadium – in a time capsule that will remain sealed for several decades.
"It's been almost a year since we stood here and broke ground," Schuerholtz said. "There has been $1.2 billion poured into this 60-acre investment."
He noted some construction statistics, including:
More than 775,000 bricks will be laid at SunTrust Park.
26,000 cubic yards of concrete has been poured so far, an amount that would build a 4 foot wide sidewalk "from here to Macon."
100,000 cubic yards of dirt has been moved. That's 10,000 dump truck loads.
8,000 tons of steel, 700 tons more than the Eiffel Tower.
450 workers are on the site.
525,000 man hours have gone into construction to date.
Schuerholtz said the day was a point of accomplishment for the team.
"It's emotional in a very positive and exciting way," he said. "This is a great big step in this project. When we had our shovels out here when we announced we were going to build on this site, it was a big day. Now it's wonderful to see this after having the opportunity to see the plans and renderings, when today we see all of the steel, concrete and the stadium taking life."
Schuerholtz added while the team caught a flack from some of the public after announcing the move, the club is starting to see the fruition of the move with the growing business developments in the county.
"All of the people that are buying businesses around this are seeing the value of what this building and organization means in this area," he said.
From the September 2015 issue of The Bright Side, Cobb County Georgia's Newspaper covering Smyrna, Vinings, Mableton, Powder Springs and Austell, GA.