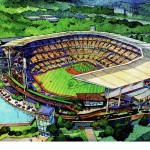 The Atlanta Braves invite you to take a look at the conceptual drawings of the planned 41,000-plus seat stadium in Cobb County.
The images show a stadium with least four decks and a broad sun canopy with gathering places for fans. It also provides a glimpse at the design concepts behind the $400 million mixed-use complex to sit around the ballpark.
"This is a very early look at how our vision is shaping up and, even though we are still months away from final plans and drawings, we are very pleased with the progress," said Braves President John Schuerholz, said in a news release.
"The renderings represent the sense of place we intend to create 365 days a year in addition to a world-class ballpark."
For more pictures visit the Braves site.