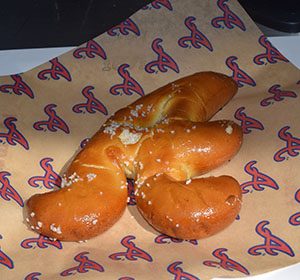 Opening Day is April 14 and there's more on the menu at SunTrust Park than just peanuts, popcorn and Cracker Jack.
The ballpark's concessions are provided by Delaware North Sportservice – a division of global hospitality and foodservice provider Delaware North. Other food vendors include Chick-fil-A, Waffle House and Fox Brothers Barbeque.
"Like the ballpark, the food service is state of the art," said Shawn Mattox, Delaware North's general manager at SunTrust Park.
A variety of themed outlets will provide regionally inspired, fan-favorite dishes using local ingredients and companies. The "Taste of Braves Country" program will feature traditional items from around Georgia and five other neighboring states considered "Braves Country," while a "Farm to Fan" initiative will bring fresh, homegrown ingredients to the ballpark from Atlanta-area farms and other local producers.
Delaware North Executive Chef  Smithing  noted that while the ballpark food prices are usually higher, "It's all made in house so it's similar to fine dining, but at the ball park."
He noted that for a family of four you might expect to budget about $60 for a meal during the game. A kids' meal of a hot dog, chips and a drink is $7.
"Delaware North has done an incredible job creating an authentic southern food experience for fans coming to SunTrust Park," said Mike Plant, Braves president of development. "With everything from the flavors to the vendors having a local tie, we know our fans will enjoy and appreciate the food experience and the quality service."
The Taste of Braves Country program was designed to showcase the best southern cooking from "Braves Country," which encompasses Georgia, South Carolina, North Carolina, Tennessee, Mississippi and Alabama. Time-tested dishes and flavors from around the south will be found on concessions menus across the ballpark. Some highlights include:
Georgia: Fox Bros. BBQ; Hugh Acheson 1st & 3rd Hot Dog and Sausage Shack, Chick-fil-A; Waffle House.
South Carolina: Pimento Cheese Patty Melt, served with caramelized onions and smoked paprika on rye.
North Carolina: Smoked whole hog BBQ sandwich, served on white bread with chopped southern slaw and vinegar BBQ sauce.
Tennessee: Nashville Hot Chicken, served with bread & butter pickles.
Mississippi: Blackened Catfish Po' Boy Taco, served with slaw and Comeback Sauce.
Alabama: Fried Tomahawk Pork Chop, served on an extra-large potato roll with collard green slaw and white BBQ sauce.
"Braves fans come from far and wide, and each one has a different and delicious food they enjoy while watching a baseball game," said Shawn Mattox, Delaware North's general manager at SunTrust Park. "We designed a menu that underscores the diversity of southern cooking and created dishes that we know all fans will enjoy while in Atlanta for a game.
For its Farm to Fan initiative, Sportservice will draw from a network of more than 40 Atlanta-area farms, urban and college gardens, and other local producers to incorporate their produce into a variety of concessions dishes. The produce and fresh ingredients will vary throughout the season based on market availability and each game will feature a different farm or local company. A guest farmer component will also bring the farmers to the ballpark to work alongside Sportservice chefs and meet with fans as they try the locally sourced dishes.
Fans can look for the Farm to Fan logo at concession stands throughout the ballpark to try the featured produce item of the game, or follow on social media as farms and participating concession stand locations are announced throughout the season.
Despite the myriad choices of food at the ballpark, the Braves will allow outside food in SunTrust Park, reversing an earlier announcement.
The organization initially said no outside food or drink, except a sealed water bottle, would be allowed into the new stadium.
Just before the March 31 preseason game, the Braves tweeted that, after receiving feedback from fans, they have changed that policy.
"Over the past few days we have heard feedback from our fans expressing their desire to continue to bring food items into the ballpark on game days. We listened and have decided to amend our approach," the organization posted on Twitter.
Fans will now be allowed to bring food inside SunTrust Park as long as it fits inside a clear, gallon-sized plastic bag. Fans may still bring a sealed plastic water bottle.
"One bag of food and one bottle of water per ticket will be permitted," the tweet said.
All bags of food are subject to additional inspection.
Exceptions to the policy will be made for those with dietary concerns and infants.
From the April 2017 issue of The Bright Side, Cobb County Georgia's Newspaper covering Smyrna, Vinings, Mableton, Powder Springs and Austell, GA.