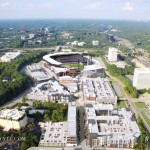 The Atlanta Braves today announced The Battery Atlanta will be the name of the mixed-use development adjacent to SunTrust Park, the new home of the Braves.  In addition to revealing the development's moniker, the Braves announced the first wave of restaurants that will be featured:  Antico Pizza, Cru Food and Wine Bar, Tomahawk Taproom featuring Fox Bros. Bar-B-Q, Superica and a steak house concept with chef Linton Hopkins.
"We believe that The Battery Atlanta will be the preeminent sports, lifestyle and entertainment destination in America," said Terry McGuirk, chairman and CEO of the Braves. "This development will bring an energy to the area that will provide our guests with top-notch shopping, dining and living options."
The Battery Atlanta's name pays respect to the sport of baseball and the new park that will anchor the area, while harkening to urban lifestyle destinations throughout the country. The term "battery" was first used by an early baseball writer, Henry Chadwick, who described it as the firepower of a team's pitching staff, similar to that of artillery. Later, the term evolved to refer to the combined effectiveness of a pitcher and catcher. The name evokes the promise of a new lifestyle destination full of vigor and energy.
"The Battery Atlanta will become one of those places in Atlanta that has its own heartbeat and vibe," said Derek Schiller, Braves executive vice president of sales and marketing. "Adding the talent of people like Ford Fry, Linton Hopkins and Giovanni DiPalma as well as Fox Bros. and Cru Food and Wine Bar to the list of partners we've already brought to this project will help us create a place that is distinct to this market."
When it opens, The Battery Atlanta will be home to a host of unique dining options that will satisfy any palate.  Two of those establishments will be helmed by a couple of award-winning Atlanta food icons – Ford Fry and Linton Hopkins.
Hopkins' celebrated Holeman & Finch burger is already a staple amongst Braves fans, with two locations inside Turner Field.  At The Battery Atlanta, Hopkins will open a steak house concept outside the ballpark. The Atlanta native opened Restaurant Eugene in Buckhead in 2004, and now owns Holeman & Finch, H&F Bread Co., as well as restaurants in Ponce City Market and at the Atlanta Botanical Gardens.
"We're thrilled to be a part of The Battery Atlanta and share an exceptional dining experience in what is sure to become one of the region's most visited destinations," said Hopkins, Chef/CEO of Resurgens Hospitality Group. "We've enjoyed sharing H&F Burger with Braves Country for the last few years and look forward to debuting our first steakhouse for both old friends and new in such a high-energy setting."
Fry will bring a Superica "Mex-Tex" restaurant to The Battery Atlanta.  One of nearly a dozen Fry restaurants from Inman Park to Alpharetta to Houston, Superica brings the Austin vibe to Atlanta with no-nonsense eats and Fry's laid-back, south Texas style.
In addition, The Battery Atlanta will offer other local dining favorites. Antico – known for having Atlanta's best pizza at its Westside location – will bring its Neapolitan pizzas to Braves fans and visitors.  The Tomahawk Taproom will be on the exterior of SunTrust Park, facing the Plaza and will feature the world-famous Fox Bros. Bar-B-Q.  Named the best barbecue in Atlanta by a host of publications, Fox Bros. will bring its special blend of Texas heat and southern spice to The Battery Atlanta.  Plus Cru Food and Wine Bar will add a second Atlanta location demystifying the world of wine in an elegant, casually hip environment.
Visitors can get a sneak peek of the development adjacent to SunTrust Park by viewing a new fly-through video of The Battery Atlanta at www.batteryatl.com. The virtual tour helps visitors map out their Battery Atlanta experience, from a stay at the Omni Hotel to a show at The Roxy Theatre, dinner at one of the chef-driven restaurants or views of the 550 residences.  In addition to restaurants and retail, The Battery Atlanta will be home to One Ballpark Center, Comcast's regional office headquarters housing the cutting-edge Innovation Lab.
The Battery Atlanta is being developed by the Atlanta Braves along with retail partner Fuqua Development, office developer Pope & Land Enterprises and Pollack Shores Real Estate. Follow The Battery Atlanta on Facebook, Instagram, Twitter and Pinterest as well as online at www.batteryatl.com.
From The Bright Side, Cobb County Georgia's Newspaper covering Smyrna, Vinings, Mableton, Powder Springs and Austell, GA.