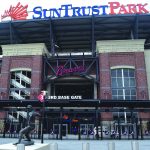 The last of the cranes used in the construction of SunTrust Park was removed at the end of March and two preseason games have tested the staff operations, passing with flying colors.
The Atlanta Braves are ready to open the season in their new home in Cobb County on April 14 against the San Diego Padres.
"The pride is boundless," said Terry McGuirk, Braves Chairman and CEO. "The effort by so many people get us here is overwhelming. There have been some 2,500 people a day working on the project, sometimes in three shifts over the past 2 1/2 years."
"This was a five to eight year project done in 30 months," Mike Plant, president of development, said.
Construction work, and cranes still are completing The Battery, an entertainment district venues, restaurants, 200,000 sq. ft. of retail and apartments adjacent to the park.
McGuirk said that some 150 of the planned apartments are finished, and leased.
"It's sort of a millennial heaven," he said.
Construction on the Battery will continue throughout the summer with the The Omni hotel opening by Thanksgiving and the Comcast office building by late summer. The first concert at the Roxy is April 7.
"By the end of the year everything will be open," he said.
Local fans are looking forward to being a part of the new ballpark.
The Smyrna First United Methodist Church's youth choir, God's Light, will perform the national anthem on April 19. "They do it every year but this one is particularly exciting since it's in our own backyard," said Julie Lischer.
SunTrust Park was designed as a fan's ballpark, with good sightlines and an intimate feel.
"The advantage of this orientation is that from the upper deck you can see the Atlanta skyline," said Joe Spears, architect.
Another unique feature is the connectivity available at the park. With Comcast next door, and wi-fi repeaters located at numerous spots around the field and in the seats, fans can enjoy free high speed wi-fi.
From the April 2017 issue of The Bright Side, Cobb County, Georgia's Newspaper covering Smyrna, Vinings, Mableton, Powder Springs and Austell, GA.