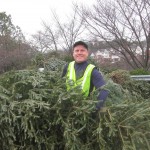 What can you do with your live Christmas tree after the holidays are over? Bring it for the Chipper! Home Depot on Cumberland Parkway and Keep Smyrna Beautiful will again host the Smyrna-Vinings area site for the Christmas tree recycling event on January 5th. Keep Smyrna Beautiful will offer citizens a free tree seedling for each tree dropped off while they last. Vegetable and flower seed packets will also be available. Volunteers will be on hand to direct traffic and to help citizens unload their trees. Davey Tree Experts will chip the trees and deliver free mulch. Last year, 67,175 trees were chipped in the Metro Atlanta area!
How can you participate? If you would like to donate your tree, simply remove all the ornaments and the base and bring it to the Home Depot on Cumberland Parkway between 9 a.m. and 4 p.m. on January 5th. Home Depot asks that trees not be dropped off until the day of the event because of space limitations. Also, please do not bring wreathes and garland. The wire used to hold them together cannot be chipped. To volunteer, call Keep Smyrna Beautiful at 770-431-2863. For information on mulch delivery call Davey Tree Experts at 770-451-7911.
Over 20 years of treecycling in Georgia has made 'Bring One for the Chipper' the largest of its kind in the nation! The Keep Georgia Beautiful Foundation spearheads this statewide event by bringing together news media, local governments, businesses and industries to educate Georgians on recycling and environmental conservation. Since the beginning of the program, 5.9 million trees have been recycled and diverted from the landfills. Last year 164,806 trees were collected across the state. Of these 160,462 were recycled into mulch for playgrounds, city and county landscaping projects, and individual homes
Keep Cobb Beautiful will sponsor free Christmas tree recycling drop-off locations throughout Cobb. Recycling trees creates mulch, fuel, wildlife habitats and other useful material. Select parks and recreation locations will accept trees Dec. 26-Jan. 5: Lost Mountain Park, 4845 Dallas Highway, Powder Springs; and Fullers Park, 3499 Robinson Road, Marietta .
Trees will be accepted at the Home Depot at 1200 East-West Connector, Austell, and 2450 Cumberland Parkway SE, Atlanta, on Saturday, Jan. 5, only.
Free mulch will be available to residents after Jan. 5. This event is sponsored by KCB, Cobb Parks, Recreation and Cultural Affairs Department, Davey Tree, The Home Depot and Cobb EMC. For more information, call 770-528-1135 or email keepcobbbeautiful@cobbcounty.org.