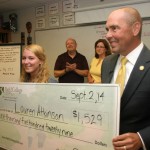 Campbell High School sophomore Lauren Atkinson was awarded $1,529 for her college savings as one of four regional winners in the Path2College 529 Plan's Summer Reading Program Sweepstakes–Fizz•Boom, $ave for College. The Cobb County Public Library System also received $529 as part of the sweepstakes.
"With this I will have a head start for college," said Miss Atkinson as she received the award in front of classmates in her AP Social Studies class Sept. 2.
"As the costs of a college education continue to rise, we want to be able to send Lauren to the college of her choice," said Diane Atkinson, Lauren's mother. "This contribution prompts my husband and me to continue to add money to Lauren's college account. She will be graduating before we know it."
Lauren, 15, is a sophomore in the International Baccalaureate Program at Campbell High School, and summer reading plays a large part of her education.
Mitch Seabaugh, executive director of the Path2College 529 Plan said the sweepstakes was designed to encourage children to continue to read throughout the summer and to get parents and grandparents thinking about their children's academic futures and how to plan for their educational needs. 
The Cobb County Public Library System plans to use its money to purchase STEM (Science, Technology, Engineering and Math) titles for young readers.
"This year Campbell's International Baccalaureate Diploma pass rate for May 2014 was 98 percent," said Diane Atkinson, who entered Lauren in the sweepstakes when they signed up for the Summer Reading Program.
"Continued education after high school is essential for today's kids, and we hope that parents will think about this cost and begin saving early and regularly to help them achieve their goals," said Seabaugh. "This partnership is designed to get families engaged in their kids' education and to raise awareness about the need to build both a strong academic and financial foundation for children."
This is the fifth year for the Summer Reading Program Sweepstakes in Georgia. Nearly $33,000 has been awarded to Georgia children and more than $23,000 has been awarded to libraries across the state through the program.
"In an effort to reach even more families this year, for the first time, we had four regional winners in addition to our grand prize winner," said Seabaugh. "It was a great way for us to reward children in every region of the state for their summer reading, while also raising awareness about college savings with their parents and grandparents."
More than 481,000 children and teens across the state participated in the Summer Reading Program in 2013.
"Georgia Public Library Service's partnership with the Path2College 529 Plan's summer reading sweepstakes reinforces two of our top goals for students and parents throughout the state: the importance of summer reading and of saving for college," said Julie Walker, state librarian. "As Georgia's public libraries embark on an exciting new initiative to promote early literacy by encouraging children to read 1,000 books before kindergarten, we welcome every opportunity to promote the love of reading. Congratulations to the winners of this year's sweepstakes — what a wonderful way to jumpstart their educational journey!"
From the September 2014 issue of The Bright Side, Cobb County Georgia's Newspaper covering Smyrna, Vinings, Mableton and Austell, GA.