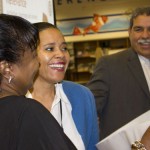 Mrs. Carolyn Davis of Riverside Intermediate School is one of three finalists for 2012-2013 Cobb County Teacher of the Year. Superintendent Dr. Michael Hinojosa made the surprise announcements during each school's first faculty meeting of the year on Aug. 10.
Fifth grade teacher Carolyn Davis envisioned herself as a teacher during childhood and has spent more than 19 years fulfilling that vision! Mrs. Davis joined Cobb in 2006 teaching eighth grade language arts at Floyd Middle School after several successful years in DeKalb schools. She joined Riverside Intermediate in 2007, where she continues to "help young people embrace a thirst for learning." Carolyn has served as a teacher mentor, worked as part of her School Improvement Team and sponsors the Junior Beta Club at Riverside Intermediate. "As an educator, my daily goal in the classroom is to make a difference and ignite sparks for lifelong learning that hopefully will transcend throughout my students' academic and personal lives," said Davis.
The faculty members at each Cobb County school select their own Teacher of the Year, who may then submit a written application for the district-wide honor. Each application is read and rated independently by a committee of administrators. The highest-rated applicants from elementary, middle, and high schools are named Teachers of the Year. The District Teacher of the Year is chosen from among the three finalists following a comprehensive interview process. The winner will be announced after the start of the school year.
From the September 2012 issue of The Bright Side, Cobb County Georgia's Newspaper covering Smyrna, Vinings, Mableton and Austell, GA.