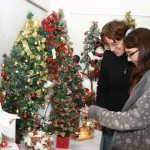 It won't be long now! Ten days of fun family-friendly activities begin Dec. 5 at the Mable House Complex.
This year marks the 30th anniversary of the Christmas House Arts and Crafts Show. The show runs Dec. 5 -14, from 10 a.m. – 6 p.m. Monday through Saturday and 2 p.m. – 6 p.m. on Sundays. Presented by the South Cobb Arts Alliance, the juried show features 70 artists and crafts people who bring beautiful handmade items perfect for Christmas or year-round gifts.
Mable's Tea Room also opens Dec. 5 and runs through Dec. 13, closed on Sundays. Tea Room hours are 11 a.m. to 2 p.m. Mable's Tea Room is a tradition for many, and proceeds benefit the Art Education Support Program of the South Cobb Arts Alliance. Be sure to make reservations for four or more by calling 770-819-3285.
Bring the children out to the grounds of the Historic Mable House on Saturday, Dec. 6 for the annual Candy Cane Hunt. Hours are 10 a.m. to noon. Activities include cookie decorating, crafts, marshmallow roasting, photos with Santa, and, of course, the Candy Cane Hunt complete with prizes.
The Tea Room opens Sunday, Dec. 7 for the special Mommy & Me Tea. Seatings are at 1 and 2:30 p.m. Bring your friends and family to have tea with your favorite Princesses. Call 770-819-3285 for details and to reserve your table.
While visiting the Christmas House and Tea Room, don't forget to stop into the Silent Auction room and bid on some fabulous items. Proceeds benefit the preservation of the Historic Mable House and outbuildings.
Many thanks to the volunteers of the South Cobb Arts Alliance and Friends of the Mable House, and for the vital support of the Cobb County Parks, Recreation and Cultural Affairs Department.
From the November 2014 issue of The Bright Side, Cobb County Georgia's Newspaper covering Smyrna, Vinings, Mableton and Austell, GA.