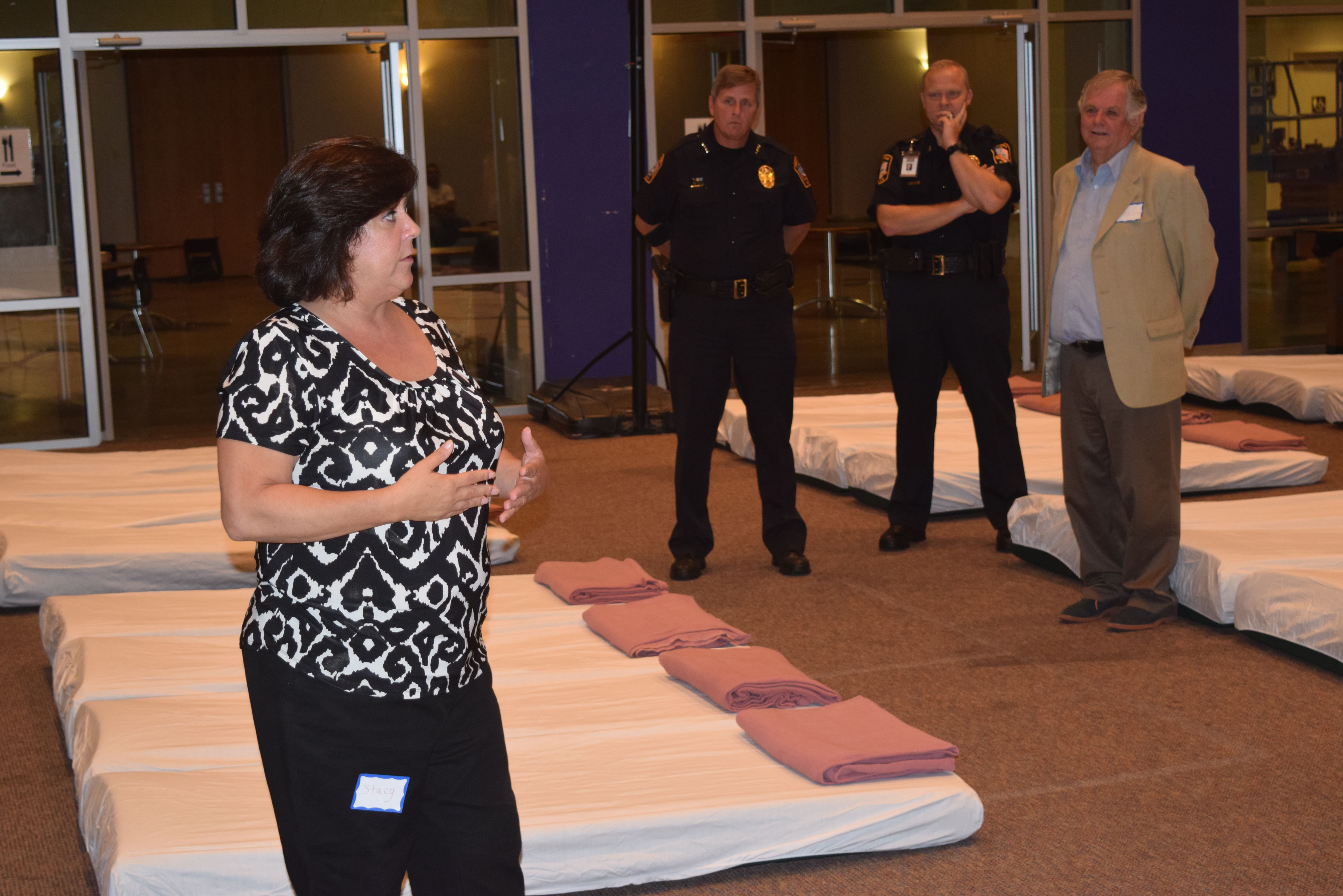 Despite August temperatures in the 90s outside, Cumberland Community Church unveiled its new 'Opening Our Doors' program to shelter the homeless during disasters and inclement weather.
Pastor Rob Irvine, executive director of the collective, told the group at the ribbon cutting Aug. 9 that "Cumberland Community Church desires to be a building, a place, a ministry for the common good. 'Opening Our Doors' will provide temporary, emergency shelter to the homeless of the area and take Cumberland one step closer to being a place of common good in our community along with the Collective at Cumberland."
He explained that the partnership of faith based and non-faith-based people shares a common goal to provide vulnerable populations with warm, safe shelter in times of natural disaster or when the temperature is forecast to drop below 25 degrees
Additional goals are to support local shelters that provide year-round service and to prevent shelter overcrowding. The new program will work closely with Gateway Center, 7 Bridges Ministry, MUST Ministries, and SafeHouse Outreach.
The emergency program can be set up quickly in a large room at the church and provides beds to 50 overnight guests. Transportation will be provided from their primary shelter. They will be given a hot meal, a warm place to sleep and a "to go" breakfast the next morning.
Rev, Irvine thanked the partners that helped in the creation of the program, including Mt. Bethel United Methodist Church and Johnson Ferry Baptist Church, HLS Health Care Laundry Services and Medline, who provided linens; Manning and Associates provides security. Funding came from the Cobb Community Foundation and a Cobb impact grant to the Collective through the Cobb County Board of Commissioners.
"The funding received by the foundation has allowed us to purchase food, beds, linens, and a washer and dryer. This will allow Cumberland to provide security and serve a maximum of 50 individuals a night for up to 10 nights per year. Cumberland Community Church will supply the volunteers during these nights and welcomes members in the community to volunteer as well," Irvine said.
The Collective at Cumberland opened three years ago. Through partnerships it provides job readiness education and placement. Stacy Brumgardt, community development director, explained that their niche is helping the unemployed and underemployed get adequate training and support to better their lives.
The 1,000-member church will provide volunteers to staff the program. Some have attended natural disaster awareness for community leaders training and are registered with Cobb Emergency Management Agency. They are also registered with the Federal Emergency Management Agency and the Georgia Emergency Management Agency.
"We are honored to be a resource and support for those on the front line in in the trenches of disaster and extreme cold weather convention," said Irvine.
From the September 2016 issue of The Bright Side, Cobb County Georgia's Newspaper covering Smyrna, Vinings, Mableton, Powder Springs and Austell, GA.