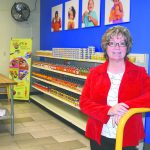 For more than two decades Darlene Duke has been helping feed, clothe and educate people in south Cobb and Douglas Counties.
She stepped down as executive director of Sweetwater Mission at the end of the year but will continue part-time as business director.
Brian Hamilton took over as executive director this year. He is retired as General Manager of Georgia Operations from Thompson Tractor, the Caterpillar Dealer in Alabama, where he worked 34 years.
"Darlene has set a high standard of Excellence that I am committed to continue," he said.
Sweetwater Mission, located at 6130 Hotel St., Austell, began in 1968 as members of several churches came together with a plan to help low-income families in their community. Volunteers formed a small used clothing distribution center and soon began to offer food and financial aid to neighbors in need. Community Action Mission Program or CAMP was formed – later known as Sweetwater Valley CAMP and now simply Sweetwater Mission.
Mrs. Duke began her career at the charity in 1994 as a volunteer though her church. The first Director, Ruth Reed, later asked her to join the board of directors. As it grew, the board sought to hire two part-time employees and Mrs. Dukes suggested they combine the jobs to make it full time. She went to work full time in 2003 and became director in 2005.
"I was doing client intake in the morning and financial aid appointments in the afternoon. That's how I was able to do both jobs," she said. "Since the first day there, it's been a pleasure to go to work every day."
Sweetwater Mission now serves some 1,500 clients per month with some 200 volunteers and four full-time and four part-time staff. Some 75 clients a day visit Monday through Saturday for donations of food, clothing and educational programs.
"We had some record breaking days right before Thanksgiving with 105 to 108 people back to back." She said.
The agency may be small, but has gotten noticed by United Way of Metro Atlanta which placed a pilot program, Kid's Home Initiative, to deal with homeless students at Sweetwater.
Comparisons to other agencies are difficult, but Mrs. Duke said that "Annual report to annual report, on a half million dollar budget we're giving away more food, more items of clothing, and more financial aid than MUST was doing on an $8 million budget. But it's a different model."
Sweetwater does not government money. That allows them to assist undocumented clients.
"If the federal government will pay to send them to school, don't tell me that I can't pay to feed them," she said.
The food program relies on cash donations from business, churches and individuals to stock a food pantry with items from the Atlanta Food Bank.
"It's a walk in service – there's an easy sign in process – but it doesn't require a Social Security card and anyone can get food," she said. "We rely heavily on donations of clothing and personal care items."
While they have a good selection of women's clothing, there is a need for men's clothing and clothing for school-aged children.
On her two days off from work Mrs. Duke will stay busy with her volunteer work. She is Vice-President of Georgia Church Women United and wants to get more involved in United Methodist Women's group at her church, Powder Springs United Methodist. She is active in the South Cobb Rotary, serving as past-president and treasurer.  She chair as backpack program and is on the board of the Douglas County homeless coalition.
What is she most proud of in her term with Sweetwater?
"It's a tossup," she said. "I love the food program because of how it really helps people. I'm also proud of the kid's home initiative."
"We have two people on our staff who formerly received assistance from us," she said and it's wonderful to have them feel good about the experience.