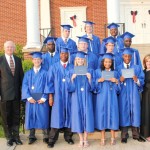 Many of our readers have never heard of Center Academy is one of the best kept secrets in Smyrna.
A private school dedicated to helping students who struggle in the normal atmosphere of a public school environment. These students weren't given anything, they earned it all. Founded in 2008, A single senior graduated in 2009 on May 23rd. L.J.Peterson, who was on hand on Friday evening to congratulate twelve new graduates. He had a very personal reason to be there also, as his girlfriend was among the 12 new seniors.
The commencement exercise took place at Sharon Baptist Church on South Cobb Drive in Smyrna.
The Church was filled with over 150 proud parents and relatives who came to witness and celebrate along with the young achievers.
The students come from all over Cobb County as well as three other counties in Metro . Smyrna, Marietta, West Cobb, East Cobb, Mableton and Austell were all represented in the celebration.
Ms. Ann Tewelow of Mableton was recognized as the outstanding parent for the year and also there to cheer on her own graduate, Devin Stepp.
I was honored to be asked to speak at this commencement and shared thoughts of what was ahead for these eager minds. I shared the story of "The Butterfly Effect" a wonderful book by Andy Andrew, an inspirational writer from Orange Beach, Alabama.
The concept is about how even a very insignificant effort can bring about tremendous change and I challenged them all to become the butterfly of change in their family, the community and in the world.
The ceremony concluded (as you might well guess) with the awarding of diplomas to Devontae Bryant (Atlanta) – Alexx Bunker (Powder Springs) – Trey Dixon (Marietta) – Brandon Edwards (Mableton) – Mark Jenkins  (Atlanta) – Keith Myers (Smyrna) – David Osborne (Kennesaw) – Ashton Ponder (Stone Mountain)- Scott Questad (Smyrna)- Brenda Reece (West Cobb)- Daniel Roberts (Marietta) – Devin Stepp (Mableton). The posted photographs are in order of the graduates listed.
Mary Jane Ritchie, principal, awarded the diplomas as Mr. Steve Hicks, Director, announced and congratulated each recipient. One last Group photo and they were off to the reception and the challenges of the world.
From the June 2012 issue of The Bright Side, Cobb County Georgia's Newspaper covering Smyrna, Vinings, Mableton and Austell, GA.