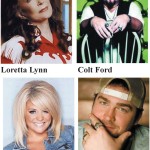 The Georgia Lottery Concert Series for the 2013 Superior Plumbing North Georgia State Fair under the covered arena has been announced, including:
• Phillips, Craig and Dean on Friday, Sept. 20 at 8 p.m.
• Lauren Alaina on Saturday, Sept. 21 at 8 p.m.
• Lee Brice on Wednesday, Sept. 25 at 8 p.m.
• Loretta Lynn on Thursday, Sept. 26 at 8 p.m.
• Colt Ford on Friday, Sept. 27 at 8 p.m.
• Jerrod Niemann on Saturday, Sept. 28 at 8 p.m.
Fair Trade Records artists, Phillips, Craig and Dean, is one of the top contemporary Christian music trios composed of Randy Phillips, Shawn Craig, and Dan Dean. Since forming in 1991, they have released 12 albums and earned 18- No. 1 radio singles. The group has received nine GMA Dove Award nominations, and sold more than two million units, receiving two Dove Awards for participating in the special event album My Utmost for His Highest, and also took the 2010 Dove Award for Inspirational Album of the Year, Fearless.
Lauren Alaina, Interscope Recording Artist and runner up of the 10th season of American Idol was voted as the American Country Awards 2012 Best New Artist. The Rossville, Ga., native recently released her newest single "Barefoot and Buckwild", and other hits like "Eighteen Inches," and "Georgia Peaches."
Lee Brice, one of country music's hottest artists of 2013 currently has seen his first three singles from his sophomore album, "Hard to Love", reach number one on the Billboard Country Airplay Chart. The Curb Records Artist is looking for "Parking Lot Party," to join his first three singles atop Country charts.
Country music legend, Loretta Lynn, has wowed America for more than 50 years!  Her music has confronted many of the major social issues of her time, and her life story is a rags-to-riches tale familiar to pop, rock and country fans alike.  Lynn herself has journeyed from the poverty of the Kentucky hills to Nashville superstardom to her current status as an honest-to-goodness American icon.
Colt Ford is a walking, talking, 300-pound celebration of country music and country living.  Not only is Colt Ford considered one of the most fan-friendly performers in the business, this Georgia boy is also one of the hardest working and most entertaining. Colt has just released his fourth studio album, "Declaration of Independence".
Judge Jerrod and the Hung Jury was Jerrod Niemann's No. 1 Billboard Country album on Sea Gayle Records/Arista Nashville, with back-to-back certified Gold hits, "What Do You Want," and Platinum certified No. 1 chart-topper, "Lover, Lover." Jerrod's sophomore album Free the Music went as high as number nine which includes the hits "Shinin' on Me," and "Only God Could Love You More."