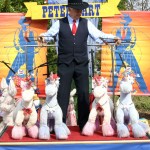 The City of Smyrna welcomes all on the weekend of October 25 and 26.  The Fall Jonquil Festival presented by the City of Smyrna and Superior Plumbing is held on the beautiful Village Green in downtown Smyrna, Georgia next to the fabulous Market Village.  The festival has a history of over 20 years and will feature over 125 hand-made arts & crafts booths, local non-profit booths, puppet shows, live music, plenty of festival foods, and all types of children's activities.  We will also have local entertainment on the stage in front of the library.  
Community Event- Friends of the Smyrna Library will have their book sale during the Fall Jonquil festival, so plan to get some phenomenal deals on all types of books imaginable.  Keep Smyrna Beautiful will be distributing Jonquil Bulbs and promoting a cleaner Smyrna.
Costume Contest and Parade!!  Kids are welcome to dress up and participate in the Costume Parade. Registration for the parade starts at 9 am, in the parking lot of Smyrna First Baptist Church. The parade begins at 9:30 and travels down King Street to the Village Green Circle. Prizes will be awarded for different age groups by four guest judges.
A crowd favorite — Peter Hart will be bringing his Atlanta Puppet Show to the Fall Jonquil Festival:  Peter's festival puppet show has appeal to everyone in a family audience with unique marionettes and puppet characters that sing, dance, juggle, play fiddle, break apart and come back together, squirt water, and are even launched by catapult across the stage!
Adding the right sounds!! Scott Thompson for your listening pleasure:  J. Scott Thompson one of the founding members of Peachtree Station (voted Atlanta Magazine's Best Country Band 2000) will entertain you with all your favorite songs on Veteran's Memorial grand lawn adjacent to the Fall Jonquil Food Court.
Artisans are from all over the southeast and feature their own hand made crafts, paintings, clothing, furniture, jewelry and much more.  The festival foods include: pizza, cotton candy, candy apples, corn dogs, hand-dipped ice cream, snow cones, polish sausage, chicken sandwiches, and BBQ.  The children's activities area will have interactive inflatable activities, sand art, and more.  
The festival hours of operation are 10 a.m. – 6 p.m on Saturday, October 25 and Noon – 5 p.m. on Sunday, October 26.  Admission is FREE. Eat delicious food, shop, check out the puppet show, play and then relax on the Veteran's Memorial grand lawn while you sing a long with the acoustic sounds of Scott Thompson.  The festival is a wonderful experience for the whole family.
From the October 2014 issue of The Bright Side, Cobb County Georgia's Newspaper covering Smyrna, Vinings, Mableton and Austell, GA.