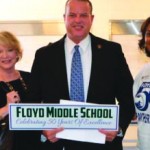 Floyd Middle School celebrated 50 years with a community celebration in August.
Green Wave and Panther Pride were united in the Louise Rushing Media Center at Floyd, where attendants gathered to celebrate the anniversary. Students have been actively engaged, also. Since school started, they've been working on Floyd research and ended the event with a massive school-wide pep rally.
All year, Floyd Middle School will continue to honor 50 years of excellence, according to Principal Dr. Teresa Hargrett.
At the anniversary celebration, guests heard reflections of the past, present, and future as well as having toured the building. Dr. Hargrett says the school is still abuzz with excitement about the celebration, "Our clubs and PTSA were on hand to showcase Floyd's activities.
"Former teachers and students contributed items toward a Memory Wall and archives were on display. It was an amazing evening!"
Floyd Middle School began originally as Floyd Junior High School in August 1965. When the school year started, the building wasn't complete, so students began classes in the Osborne Junior building. After three weeks, a fire destroyed part of the Osborne building, causing Floyd students to be moved to the South Cobb High School campus. It was in January 1966 that Floyd was finally finished and opened its doors to 900 excited students.
During the next six years, Floyd nearly doubled in size under the leadership of Principal T. J. Hatcher. With approximately 1,500 students on campus in the early seventies, more than a dozen portable classrooms were then needed to accommodate the overflow. Currently under the leadership of Dr. Teresa Hargrett, Floyd continues to grow its outstanding student body and teaching team.Floyd's vision is "a community of actively engaged lifelong learners who are accountable, productive citizens," and its mission is to "make a difference."
From the September 2015 issue of The Bright Side, Cobb County Georgia's Newspaper covering Smyrna, Vinings, Mableton, Powder Springs and Austell, GA.