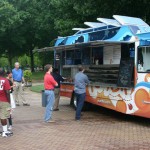 Rain or shine, Tuesday is food truck day at the Galleria office Park.
Some two to four of these rolling restaurants are parked in the center courtyard to serve Lunch every Tuesday between 11 a.m. and 1 p.m. Bobby Rodriguez, owner of Yumbii, serving a fusion of Korean Barbeque, tacos and southwestern fare, said his truck has been visiting there for nearly a year. Items run $3-5 with a combo priced at $9.
At Hail Caesar, salads and wraps are priced at $6.50 to $7.50.
Driver Will King said, "This is a good spot," as it serves four office buildings and is beautiful background for a lunch break.
The King of Pops was also setting up to sell frozen popsicles as the crowd started the lunch break.
The Galleria Office Park also provides entertainment, such as a local jazz band, on several Tuesdays during the year.
From the June 2012 issue of The Bright Side, Cobb County Georgia's Newspaper covering Smyrna, Vinings, Mableton and Austell, GA.