Presbyterian Village in Austell held its annual golf cart parade to honor the Fourth of July with more than two dozen golf carts decked out in patriotic bunting. Where in previous parades there has been a Grand Marshall seated in the lead car; this year some 14 World War II veterans were honored as Grand Marshalls, riding in individual carts.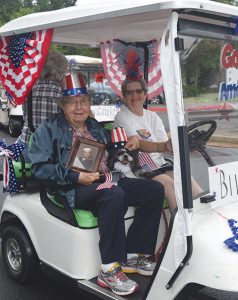 Among them was, below left, Navy veteran Bill Smith, a pharmacist's mate 3rd class, who served aboard the USS Wyoming in WWII.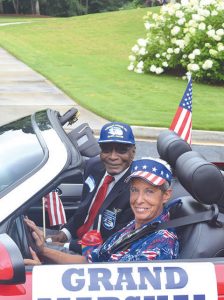 Hilliard Pouncey, right, an original Tuskegee Airman, rides in the lead car as one of more than a dozen "Grand Marshalls" at the annual golf cart parade at Presbyterian Village in Austell on July 3.
Bringing up the rear in a 1915 Model T, below right, are Robert and Bryant Brough of Mableton in vintage uniforms to honor the veterans.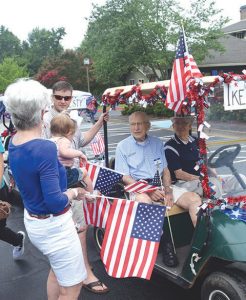 At left, Ike Strueusee, an Infantry Staff Sgt. during the war, fought at the Battle of The Bulge in the Army.