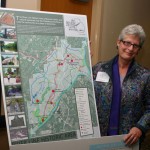 The Mableton Improvement Coalition, Smyrna Historical and Genealogical Society, Cobb Landmarks and Historical Society, Kennesaw State University's Civil War Center, and The River Line Historic Area organizations have united to preserve, rehabilitate, and interpret the Hooper-Turner (HT) House at 5811 Oakdale Road near the Chattahoochee River in Southeast Cobb County.
The house is known to many by its oral legend as a Civil War hospital.  A preliminary architectural study dates the house to circa 1850 offering credence to the legend and a foundation for additional research.
The HT House is a highly visible focal point centrally located within The River Line Historic Area.  The River Line Historic Area includes the Federal and Confederate Civil War earthworks related to Johnston's River Line, a 7 mile defense line extending from Vinings through Smyrna to Mableton along the Chattahoochee River.  These fortifications were constructed by enslaved African Americans to defend Atlanta from the advancing Federal troops in the summer of 1864.
The Hooper and Turner families were prominent pioneer settlers who lived along the Chattahoochee River in the vicinity of the present-day Oakdale Rd. and Veterans Memorial Hwy area.  In 1851 Thomas Hooper Sr. owned 531 acres of land and Daniel Roberts Turner owned 749 acres.  Daniel Turner operated the Mayson-Turner Ferry from 1844 to 1897 across the Chattahoochee River in alignment with the present-day Veterans Memorial Hwy.  Thomas Hooper Jr., a charter member of the Nelms Masonic Lodge, sold the "Civil War Hospital" property in 1883 to Daniel Turner's eldest son,  John H. Turner, another Nelms charter member.
The HT House was listed on the Cobb County Register of Historic Places in 2003 under the nominating homeowner's name, Ms. Frances Presley.  It is a rare example of an 1850s era hall-and-parlor house-type, which consists of 2 rooms typically bookended by field stone chimneys.  With the evolution of modern conveniences, the house expanded over time resulting in room additions; consequently, many of the original building materials were replaced.
The house is a significant historic landmark in the midst of a transitional area hosting future plans for visitors in the nearby 127 acres of battlefield nature parks, a historic walking trail extension from the Silver Comet, and recreation along the Chattahoochee River.
The Mableton Improvement Coalition commissioned a feasibility study for the HT House with grant funding through The Community Foundation for Greater Atlanta.   The study recommends rehabilitation of the house to serve as an interpretive center for the surrounding Chattahoochee River Line Battlefield.
Planning for the HT House is in its initial stage.  More information about the house can be found at www.mableton.org/HooperTurnerHouse.html
Anyone interested in working on this project should contact Roberta Cook at riverlinega@gmail.com.
From the January 2013 issue of The Bright Side, Cobb County Georgia's Newspaper covering Smyrna, Vinings, Mableton and Austell, GA.