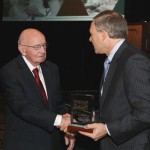 Charles "Pete" Wood, founding member of the Board of Trustees for WellStar Health System in Marietta, was presented with one of the Georgia Hospital Association's (GHA) highest honors, the Distinguished Service Award. Wood, who received the award at the association's annual convention Feb. 22 in Atlanta, was recognized for his integral role in achieving several health care milestones over the past five decades.
A native of Smyrna and southern Cobb County, Wood has been heavily involved in the well-being of his community since 1962, when he saw a need to bring more health care resources to the underserved area. As a founding member, and the first finance chair, of Cobb Hospital Authority, he worked tirelessly with the local government to establish Cobb General Hospital in 1968.
In 1992, while still serving on the Cobb Hospital Authority board, Wood helped guide the merger of Cobb Hospital and Medical Center with Kennestone Regional Healthcare System. The merger created an organization of four acute care hospitals – Cobb, Douglas, Kennestone and Windy Hill. Paulding Hospital joined the merged hospitals in 1994 to create WellStar Health System, providing services and best practices to more than 1 million Northwest Metro-Atlanta residents.
In 1997, Wood joined the newly-formed WellStar Health System Board of Trustees as a founding member. Years later, under his influence, the system has grown tremendously, and Wood's decisions directly influence strategic and operational policies at five hospitals, 100 physician offices and the 1.4 million patients WellStar serves annually.
During his tenure on the financial committee of the board of trustees, Wood's strong leadership and fiscal conservancy led to WellStar's annual income increasing from
$8 million at its inception to more than $160 million. Recent construction projects, such as the new patient tower at WellStar Kennestone Hospital, highlight Wood's dedication to the system's continued successful growth. The new tower allows the hospital to provide inpatient rooms to the majority of its patients.
Perhaps one of Wood's most important undertakings as a board member has been ensuring that WellStar Kennestone Hospital had the resources necessary to become a Level II trauma center in late 2011. This designation directly impacts the health of millions of north Georgia residents, who previously had to travel to Atlanta for trauma care. Now, the chance of survival for injured patients is significantly increased.
Wood graduated from the University of Georgia in Athens and the Graduate School of Banking of the South at Louisiana State University in Baton Rouge, La. A lifelong resident of Cobb County, he served in the United States Army and retired from the Army Reserves as a colonel. He spent much of his professional career as a vice president with Bank South, retiring after 37 years of service. His influence is deeply-rooted in his community through his membership with several groups, including the Smyrna City Council, the Veterans Memorial Association of Smyrna and the Smyrna Business Association.
"Pete Wood's effect on his community and its residents is unmatched," said Joseph Parker, president of GHA. "His influence in bringing quality health care to North Metro-Atlanta and providing its residents with a nearby trauma hospital, speaks volumes about his leadership and dedication. He is a most-deserving recipient of this award."
Candidates for this annual award are hospital trustees or community leaders who have made significant contributions to improving health care in Georgia.