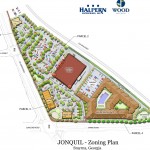 Smyrna City Council approved on a 4-3 vote Aug. 17 plans by Halpern Enterprises to develop Jonquil Village on a 12.5 acre site at the corner of Atlanta Road and Spring Road.
The long-awaited development will  include 290 luxury-housing units with a 464-space parking deck, a grocery store (45,600 sq. ft.) and 14,400 square feet of retail with additional 324 spaces of surface parking, plus a stand-alone restaurant (5,000 sq. ft.) anchoring the north side of the project with 51 additional parking spaces.
The apartments, designed for millennial renters, will be 65 percent one-bedroom, 30 percent two bedroom and the remaining handful three-bedroom
The property includes sidewalks, greenspace and numerous trees. There will be three entrances, two of them on Atlanta Road.
The approval came aver a contentious three hour public comment on the plan. Council members Melleny Pritchett, Teri Anulewicz, Charles Welch and Ron Fennel voted in favor of the new site plan, while Andrea Blustein, Susan Wilkinson and Wade Lnenicka voted against.
Mrs. Anulewicz reminded the crowd the site was rezoned in 2007 to allow for 300 residential units and 188,000 square feet of retail and commercial space. The Monday night vote was only to approve a new site plan, which was less intense than the original proposal.
From the September 2015 issue of The Bright Side, Cobb County Georgia's Newspaper covering Smyrna, Vinings, Mableton, Powder Springs and Austell, GA.