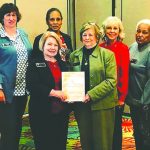 Keep Smyrna Beautiful was honored with a 2nd Place award for its overall programs in 2018. The award was presented by the Keep Georgia Beautiful Foundation on Dec. 6, and marks the 23rd consecutive year the local non-profit has been recognized for excellence in environmental efforts.
Keep Smyrna Beautiful's programs touch on water quality, solid waste and recycling issues, trees, beautification, community sustainability (the community garden and outdoor market), mobility (bike racks), and community involvement (Adopt-A-Mile and other volunteer programs).
As Keep America Beautiful recently stated:
"Today, Americans are moving faster and doing more with the modern conveniences our society provides. But this comes at an expense to our natural resources, beauty and community cohesion we work every day to improve.
"Our national challenges with litter, recycling and beautifying communities will be even more relevant in the years to come as they were in 1953 when national nonprofit Keep America Beautiful was founded … more than in 1967 when canine TV star Lassie appeared as a mascot for our anti-littering public service campaign … and more than 1999, when we launched the Great American Cleanup.
"Because of our history, many people believe Keep America Beautiful is just an anti-litter organization. After all, "Every litter bit hurts!" But we are much more!"
As Keep America Beautiful is more than anti-litter, so is Keep Smyrna Beautiful.
"We are the official organization for all things environmental in the City of Smyrna. We have begun to work on projects such as Atlanta Regional Commission Green Cities Designation, EV Charging Stations, a Tree Save program. We are moving forward every day to help the City of Smyrna be the best it can be", said Janet Liberman, Executive Director.
To volunteer, please contact Julie Barwig at jbarwig@smyrnaga.gov. To learn more about Keep Smyrna Beautiful, https://www.smyrnaga.gov/your-government/departments/keep-smyrna-beautiful