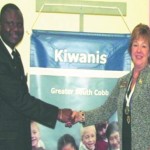 The Kiwanis Club of Greater South Cobb was launched and chartered on Feb. 8.
All nine Kiwanis clubs within Division 15 of Georgia District were represented.
Some 25 new Kiwanians were inducted that evening, and were fondly greeted by dignitaries and local officials. Kiwanis GA District Governor Katrina Baranko was the Keynote Speaker of the night. Other Kiwanians in attendance included Mayor of Powder Springs Pat Vaughn, and Powder Springs City Councilwoman Cheryl Sarvis, former Congressman Bob Barr,  State Rep. David Wilkerson, and Commissioner Lisa N. Cupid were among the elected officials who graced the occasion with their presence.
"We are here to change the world – one child, one community at a time," said Ray Tiyamiyu, President of Kiwanis Club of Greater South Cobb.
Club members have begun implementing educational and mentorship programs in the community, launching a Key Club program at Pebblebrook High School, and plans to partner with Bryant Elementary to introduce the Terrific Kids & Bring Up Grades (BUGS) programs withaim of teaching values such Respect, Integrity, No-bullying to our young, and impressionable students. Last November, members of the Club participated in the Thanksgiving Food Drive in partnership with Center for Family Resources to assist the less fortunate. The Club volunteered, and provided services to support Georgia Special Olympics. These are just few footprints of Kiwanis Club of Greater South Cobb, and the Club is  poised to serve and do more in Mableton, Austell, Powder Springs, and the surrounding cities.
In addition to members receiving their Certificates and Pins, the induction ceremony, photo opportunity, and networking, close to 120 attendees enjoyed a sumptuous and endless buffet of Chicken Marsala, pork tenderloin, vegetables, salad, and a wide assortment of desserts.
Charter night was the culmination and efforts of the founding fathers of the Kiwanis Club of Greater South Cobb. Lt. Governors Ron Davis, Charles Lollis, Governor Charles Hood, Mr. Bob Poe, Warren Kriss, James Tutweiler, and others were congratulated for their outstanding and superb work in organizing, recruiting and planting this new Club in the South Cobb Area.
For more information on the Greater South Cobb Kiwanis or to become a member, contact Ray Tiyamiyu at rayolat@aol.com or Celeste Houston (secretary) at  cyhsanibel@gmail.com.
From the April 2014 issue of The Bright Side, Cobb County Georgia's Newspaper covering Smyrna, Vinings, Mableton and Austell, GA.