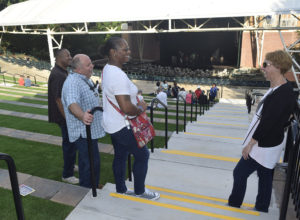 The Mable House Barnes Amphitheatre's season is underway and concert goers and performers are benefitting from extensive renovations.
"We have a robust concert series that we are this hosting on behalf local promoters," said Robert Edwards, general manager. The amphitheater is a rental only facility.
"One of our promoters, Royal Entertainment, has brought in some 20 concerts over the summer."
Royal also helped facilitate moving all of the Kiss 104.1 Flashback series from Lakewood Amphitheater. Memorial Day and Labor Day weekends have back to back concerts.
"It's going to be a fun series over the summer," Edwards said during an open house at the facility in May.
A new movie series on the first Friday of each month called Movies , Band and Brew, will be a nostalgic evening with the theme of an individual artist and film.
"We are teaming up with the Arts Center so the first Friday in July is a Prince experience. A national touring, exhibit, then have Hero, The Band playing music of Prince and the movie Purple Rain.
An Evening of Jazz series is already underway.
Edwards said that in the winter of 2017 renovations began the backstage area, including the green room and dressing areas.
"We ripped up all the floors which now with polished concrete, bought new furniture, and gave it a new look. We really spruced up the place to give the artists a better impression of our backstage," he said.
"This past winter we redid the lawn area so it is now terraced instead of a steep hill. Now we allow all of our patrons to bring in their own lawn chairs. It's a big deal since we never allowed that in the past. We have new bar areas in the venue so we have full cash bars available to the public," he said.
The entire SPLOST renovation was $2 million spread out over two years.
The seating area remains the same capacity at 2,500 with 1,500 under the roof and 1,000 on the lawn.
"It's just a more user friendly lawn area," he said.
Here are some of the shows coming this summer and fall at the Mable House Barnes Amphitheatre.
An Evening of Jazz series:
• June 22 – featuring Gregory Porter, Ken Ford and Kathy Kosins.
• July 6 – featuring Boney James, Avery Sunshine and Alex Bugnon.
• Aug. 3 – featuring Brian Culberson and Najee.
• Aug. 17 – featuring Jeffrey Osborne and Jody Watley.
• Sept. 21 – featuring Jonathan Butler, Kirk Whalum, Eric Darius and Nick Colionne.
July 20 – The Gentlemen of Soul featuring Peabo Bryson, Freddie Jackson and Howard Hewett
Kiss 104.1 Flashback Festival:
• Aug. 31 – The Whispers with Ruben Studdard, and Evelyn Champagne King.
• Sept. 1 – Cameo with Midnight Star, and Glenn Jones.
Also, Sept. 7 – Sounds Good Medicine with Dave Koz, Gerald Albright, Rick Braun, Kenney Lattimore, and Bryan Thompson, hosted by M.C. Lightfoot.
The Wednesday night children's series, sponsored by Kaiser Permanente, will feature free movies such as Black Panther on June 12; Spiderman Into the Spiderverese on June 26; A Wrinkle In Time on July 10; and How To Train Your Dragon: The Hidden World on July 24.
First Fridays feature Movie, Bands and Brews:
• July 5 – Purple Rain, featuring Hero, the Band, playing Prince music.
• Aug. 2 – Ferris Bueller's Day Off, featuring The Neon Queen.
• Sept. 6 – Nine to Five with a performance by Diva Royale.
• Oct. 4 – Bohemian Rhapsody featuring a Queen tribute performance by the Georgia Players Guild.
For showtimes and tickets visit mablehouse.org or call 770-819-7765.
From the June 2019  issue of The Bright Side, Cobb County Georgia's Newspaper covering Smyrna, Vinings, Mableton, Powder Springs and Austell, GA.