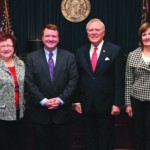 Dr. Keith Jeffords was honored in the Georgia House of Representative for saving the life of a construction worker who was injured just outside his plastic surgery office in Smyrna.
A  landscape gardener who almost severed his arm in an accident with a masonry saw says he owes his life to the plastic surgeon who came to his aid.
Filiberto Huaracha, a father of four, was working on a private landscaping job in downtown Atlanta when the stone grinder he was working with sliced into his right arm. Bleeding heavily, Huaracha noticed a sign that said 'surgeon' at an address around 500 yards from where he was working, on the corner of Atlanta and Lee roads.
He started running towards the sign and had almost collapsed from blood loss and shock before he made it to the office of plastic surgeon Keith Jeffords.
Dr. Jeffords posted on Facebook: "Interesting day at my office. A consultation was interrupted by saying 'there is a man bleeding to death' outside my office. A landscaper came to my door after cutting his upper arm with a chainsaw. His coworkers brought him to my office since I was a doctor. So, in my yard, I applied a tourniquet, cleaned him and brought him into my office. Paramedics came. He was stabilized and transported to Grady. Who said Plastic Surgery is boring?"
While Dr. Jeffords had not handled a trauma case since his intern days, he said: "It's like riding a bike, I just went into action mode."
Jeffords is a 1977 graduate of SouthCobbHigh School.
"This guy was near shock. He was asking me not to let him die. And then, as he was getting light-headed, he goes 'Jesus, I'm coming to you' and I said 'No you're not,'" Jeffords told the press.
He was helped out by staff from the surgery – as well as a patient, who tore off his own shirt to help make a tourniquet and then dialed 911 for paramedics.
Huaracha was stabilized and taken to GradyHospital, where surgeons operated to save the arm and Huaracha himself.
After months of rehabilitation, Huaracha was on hand at the Capitol Feb. 12 as the House honored Dr. Jeffords for his life saving actions.
From the March 2013 issue of The Bright Side, Cobb County Georgia's Newspaper covering Smyrna, Vinings, Mableton and Austell, GA.