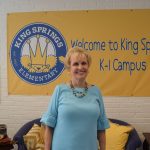 After a decade at King Springs Elementary, and 30 years in Cobb Schools, Linda Keeney has retired as principal.
Her daughter, Amanda Laine Chalk, in a Facebook post, described the scene on her final day and the last day of school. "In true Linda Keeney fashion, she led the buses out and waved goodbye to all of her 'kids.'"
"She loves this school and the community and what a difference she has made."
During her tenure as principal King Springs was named a Georgia School of Excellence in 2013; was a Platinum School for Student Achievement during her second year as principal and was twice named a PTA national school of excellence for parent involvement.
"We have rally added a lot a of parent involvement," she said. "We have a strong PTA and a strong school council."
Before becoming principal, she worked at Griffin Middle School and Blackwell Elementary.
"I love kids," she said. "A principalship is a calling. It's hard to retire because I can't get beyond having the kids come in in the morning and grabbing me around the legs and saying I love you."
During the past decade the school has grown from 625 students to some 950 presently. It serves a diverse area with a student population of 43 percent Caucasian, 38 percent African-American and 11 percent Hispanic.
"We ae a true melting pot," Mrs. Keeney said. "We have parents of all ethnicities involved in the school. We are getting more and more kids. Parents want to get their kids in the King Springs area. Realtors tell me they can't get enough homes to sell in this district."
She received praise from the school community and the public.
"She has had a great deal to do with the revitalization of King Springs Elementary," said Susan Thayer, Cobb Board of Education member from Smyrna. "She put her heart and soul into that community and that school and made it what it is today. She has been a wonderful part of our community and a great principal."
"Congratulations to retiring King Springs Elementary School Principal, Linda Keeney. Thousands of young lives were enriched through her dedication to excellence and leadership," said Jeff Jones, chair of the Smyrna Arts and Cultural Council.
What will she be doing in retirement?
"Visiting my grandchildren, there's a new one due July 26," she said. "And doing some traveling."
She plans to take her grandson, who is turning 16 this summer, to Washington D.C.
"I will miss the kids and the teachers most," she said. "And least, the getting up at the crack of dawn."
I telling the school about her retirement, she used a quote from Winnie the Pooh: "How lucky I am to have something that makes saying goodbye so hard."
From the June 2017 issue of The Bright Side, Cobb County Georgia's Newspaper covering Smyrna, Vinings, Mableton, Powder Springs and Austell, GA.