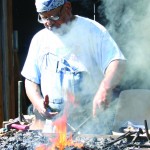 How did people live, work and play before electricity? What did children do before television and computers? What did people eat back in the 1800's? Come to the Mable House and find out during the annual Storytelling Festival Oct. 17 from 11 a.m. to 4 p.m.
Step back in time every October and enjoy an event-filled day on the grounds of the Historic Mable House, 3239 Floyd Road, Mableton.  Storytellers and musicians take turns on stage all day long. Stroll through the Historic House where a Southern Belle tells the history of the Mable family.
Learn some South Cobb history as you make crafts and learn skills from the 1800's. Ever made your own butter, shucked corn, or decorated a pumpkin?
You'll find lots of fun activities for all ages. Watch demonstrations of pottery making, blacksmithing, wood carving, weaving. Interact with the animals in the petting zoo, take a hay ride, and enjoy some BBQ or an old-time vegetable plate.
The Storytelling Festival is presented each year by the volunteers of the Friends of the Mable House and the South Cobb Arts Alliance with the support of the Cobb County Parks Recreation and Cultural Affairs Department.
The Honey Creek Boys will be offering Bluegrass Music all day on the small stage. There will also be pony rides, hay rides, and a petting farm at various parts of the day.
Storytelling begins at 11:30 and runs through 3:30 p.m. including: Cathy Kaemmerlen, Piccadilly Puppets, Josie Bailey, Barry Stewart Mann, Joanna Maddox. The Pebblebrook HS orchestra will perform at 2:30 p.m.
Demonstrations going on all day include: Blacksmithing Panning for Gold Old Fashioned games, Butter Making, Corn Shucking, Sweet Potatoes, Historic Tours of the Mable House, Pottery, a Bee Keeper and Children's Arts and Crafts.
A Home Cookin' lunch will be served at the Kitchen House and the South Cobb Lions Club will be offering barbeque plates with all the fixings.
From the October 2015 issue of The Bright Side, Cobb County Georgia's Newspaper covering Smyrna, Vinings, Mableton, Powder Springs and Austell, GA.