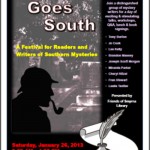 Murder Goes South… a Festival of Readers and Writers of the Southern Mystery will return in January.
In past years, The Friends of Smyrna Library has presented entertaining and informative programs that has pleased and excited lovers of the mystery genre. This year's events includes a line-up of local mystery writers discussing topics that are sure to please even the most avid mystery buff.
The day-long event will be at the Smyrna Community Center on Saturday Jan. 26, from  9:30 a.m. to 4:30 p.m. Lunch is Provided. Tickets are $30.
Ever wonder what goes on behind that yellow "crime Scene" tape? Or just how does your favorite author come up with such tantalizing stories that keep you turning the pages? Come to Murder Goes South and discover a whole new wonderful world of mystery.
Register at murdergoessouth.com.
From the December 2012 issue of The Bright Side, Cobb County Georgia's Newspaper covering Smyrna, Vinings, Mableton and Austell, GA.