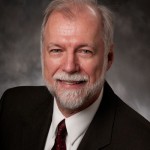 Dr. Ron Newcomb was named new president of Chattahoochee Technical College Feb 2 by Technical College System of Georgia Commissioner Ron Jackson after his choice was approved by the state board.
"I look forward to continuing my work with the faculty, staff and students of Chattahoochee Technical College in this role," said Newcomb. "We have a long and proud history in this state as leaders in higher education.  I will work hard to ensure my leadership builds on the success that has made Chattahoochee Technical College a flagship institution in Georgia."
Newcomb, a graduate of the University of Georgia, has served as the interim president of Chattahoochee Technical College since Oct. 1, when former president Dr. Sanford Chandler stepped down to assume the role of assistant commissioner for global initiatives. Since July 1, 2009, Newcomb served the college as provost and executive vice president. Prior to the merger of Chattahoochee Technical College with North Metro Technical College and Appalachian Technical College, he served as acting president of NMTC and the vice president of academic affairs and institutional advancement.
Newcomb represented Ward 2 since 1991 on the Smyrna City Council until he decided not to run for reelection in November.
He has also served as an assistant for education research and policy under Georgia Governors Joe Frank HarFrom the February 2012 issue of The Bright Side, Cobb County Georgia's Newspaper covering Smyrna, Vinings, Mableton and Austell, GA.ris and Roy Barnes.