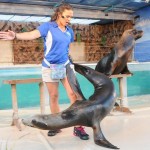 The 82nd Annual Superior Plumbing North Georgia State Fair opens Thursday, Sept. 18, through Sunday, Sept. 28, at Jim R. Miller Park in Marietta.
Attracting nearly 300,000 people from throughout metro Atlanta, North Georgia and surrounding states, the Superior Plumbing North Georgia State Fair is the largest fair in metro Atlanta and the second largest in Georgia.
A new ride for 2014 is the Sky Flyer, The tower of the ride is a sky-scraping 100 feet high. It has 12 arms on which the seats are held. Each seat holds two riders. Once passengers are safely loaded, the main tower slowly rotates and the arms and chairs are lifted in the air, giving a smooth and enjoyable experience. The ride gives a wonderful feeling of weightlessness.
New Live shows that are free with paid admission include:
Robinson's Racing Pigs & Paddling Porkers– Come cheer on the funniest racing experience ever! Pig racing gets even better when celebrities like Britney Spareribs and Lindsay Slowham are vying for the coveted Oreo prize. These porkers will race and swim straight to the top of your most fun list.
Sandscapes – This is performance art the whole family will enjoy. You will want to bring the whole family back again and again as the Sandscapes sculptors transform 50 tons of sand into a specially-themed work of art throughout the run of the fair.
The Puppetone Rockers – The nationally-known Puppetone Rockers perform to millions of fans every year. The Puppetone Rockers captivate audiences with laughter, audience participation, super-positive messages and a great cast of characters. Catch the huge driving performance piano strolling the grounds daily.
All-time favorite shows and attractions back again this year include:
Sea Lion Splash – You'll laugh and stare in amazement as these unique creatures balance balls, catch rings, do handstands and perform gymnastics tricks! This is the only traveling, self-contained sea lion show in the country! When the sea lions are not performing their hilarious and educational show, they will be on display so that everyone can view them as they swim and play in their natural habitat.
The Tiger Encounter with Felicia Frisco – At 20 years old, the 9th Generation animal trainer is the youngest female tiger trainer in the United States. See her present her five Bengal tigers in "The Tiger Encounter." This show is dedicated to the education and preservation of tigers, by educating people on the plight of the tiger, as well as entertaining them with a series of natural behaviors, and showing the bond between tiger and trainer by training with positive reinforcement.
Brian Ruth "Master of the Chainsaw" will be back to transform raw logs into true works of art with only a chainsaw.
Oscar the Robot, the entertaining roaming robot with razor wit and famous stroller races will also be returning to the fair this year.
Wit Carson's Petting Zoo and the fair petting barn at the south entrance of the fairgrounds provide a fun and educational experience for children and adults alike. Some of the animals that will be on hand include bison, zebra, cows, rabbits, llamas and much more! Pony rides also will be offered.
Other long-time traditions will continue, including sanctioned flower shows, non-commercial exhibits, and more than 40 amusement rides and games courtesy of the Great James H. Drew Exposition.
Advance tickets can be purchased for $5 for adults, and $11 for a book of 21 ride tickets – which is half off. Visit website to order tickets by credit card at www.northgeorgiastatefair.com.
Friday, September 19 is Senior Day at the North Georgia State Fair. Parking & admission are free for adults age 55 and above.
Regular tickets can be purchased at the gate at $7 for adults, with children 10 and under free. Ride tickets are $1.25 each, $20 for 21 tickets, $50 for 55 tickets and 120 tickets for $100. Parking is $3. ATM machines are located on the midway.
Unlimited Ride Specials include $15 Pay-One-Price Ride Special – on Monday, 9/22; $20 Pay-One-Price Ride Special – on Thursday (opening day) 9/18; Tuesday, 9/23 & Wednesday, 9/24;
$25 Pay-One-Price Ride Special – on Saturdays, 9/20 and 9/27 from 11 a.m. to 3 p.m. (good till close).
To visit the Superior Plumbing North Georgia State Fair, take Interstate-75 North to Exit 260 (Windy Hill Road) and go west. Go approximately five miles on Windy Hill Road, turn left on Austell Road then turn right on Callaway Road. Jim R. Miller Park is on the right.
For information, call 770-528-8989 or visit www.northgeorgiastatefair.com or facebook.com/thenorthgeorgiastatefair.
From the September 2014 issue of The Bright Side, Cobb County Georgia's Newspaper covering Smyrna, Vinings, Mableton and Austell, GA.