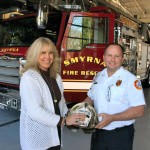 Smyrna's new fire chief, Paige Day, reported for duty on Jan. 6, becoming the city's first female chief.
From a pool of 50 candidates, a group of 14 were given consideration, of which five were selected to go through an assessment process which included interviews. Former Chief Jason Lanyon resigned last year and Deputy Chief Roy Acree had been serving as acting chief.
Her office showed signs of moving in with boxes on the floor and pictures and awards filling the chairs.
"It's a little chaotic but it's also very exciting. There is so much opportunity here, everybody is so enthusiastic. I have been welcomed with open arms and I know we are going to be doing great things for the community of Smyrna.
She said her first job was getting acquainted.
"I will be meeting with all the staff — administrative and line personnel – as well as department heads of the city and getting to know key community partners," she said.
"We are going to be creating a strategic plan right away — where our department needs to go — and wrapping our budget request around that."
She serves as Fire Chief/Emergency Management Director after being approved by Council Dec. 16.
Day, who previously served as the Assistant Fire Chief with Missouri City, Texas, has worked in fire service since 1999 with a career that has encompassed a variety of disciplines including paramedicine, front line officer, Community Services Director, Station Chief and Assistant Chief over Operations and Training. She has served in Tucson, AZ and spent the last two years of her career in Missouri City, Texas, a suburban community bordering Houston.
Day holds a bachelor's in public safety administration, a master's in executive fire service leadership from Grand Canyon University and is currently pursuing a doctorate of education in organizational development and leadership from Grand Canyon University.
Day is married and together with her husband Mark, who recently retired from the fire service as a Training Captain, has four children: Cody, 23; Taylor, 21; Mariah, 21 and Kellie, 17.
From the January 2014 issue of The Bright Side, Cobb County Georgia's Newspaper covering Smyrna, Vinings, Mableton and Austell, GA.