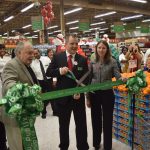 The long-awaited Publix grocery at Jonquil Plaza opened its doors Dec. 15 after a brief ribbon-cutting ceremony.
Joe Yurillo, store manager, welcomed customers and dignitaries to the store. Among those attending were Smyrna mayor Max Bacon, Rep. Stacey Evans, and Council members Teri Anulewicz, Charles Welch, Susan Wilkinson and Derek Norton.
"We are happy to open in time for the holidays," Yurillo said. The new manager, who started his career in Florida, has been with Publix for 30 years. "It's the first and only job I ever had," he said.
Smyrna major Max Bacon said, "We're so glad you guys finally got here. I give a lot of credit to Jack Halpern for this development." The long delayed project went through several developers and plans before Halpern Enterprises took on the project. The Smyrna location was given the designation store number 1250 when it was first announced several years ago. Other Publix stores that are currently opening have store numbers in the 1500s.
The new store will employ some 130 associates. Publix currently has 25 stores in Cobb County.
The Publix at Jonquil Plaza will be a 45,000 square-foot store, with an estimated 110 associates. It will have the traditional grocery, dairy and frozen food departments along with the following offerings:
A full-service meat department where customers can have their orders custom cut and trimmed
A seafood counter where customers will have a variety of fresh fish and seafood options
Always-popular bakery offerings, including an array of mouth-watering cakes, cookies and pies as well as an assortment of decadent desserts and fresh baked breads
The full-service deli highlighting Boar's Head meats and cheeses, as well as made-to-order sub sandwiches and award-winning fried or rotisserie chicken. New Grab & Go Case showcasing fresh, convenient offerings.
Publix Online Easy Ordering (OEO) is available for select items in our deli and bakery. Customers can log onto Publix.com or download the Publix App to order items like custom subs, platters, cakes and deli meats and cheeses.
A produce department offering both organic and conventionally grown fruits and vegetables
A full service pharmacy with drive-thru window.
From the January 2017 issue of The Bright Side, Cobb County Georgia's Newspaper covering Smyrna, Vinings, Mableton, Powder Springs and Austell, GA.