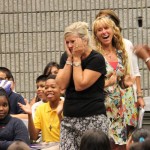 In a surprise Sixth Grade assembly at Campbell Middle School Aug. 16 the biggest surprise went to teacher Rhonda Lokey as she was named the Cobb County Teacher of the Year for 2013-2014.
Superintendent Dr. Michael Hinojosa was supposed to be on hand to welcome the Sixth Graders to Middle School, but surprised them all by announcing the Cobb Teacher of the Year winner.
"I've never been at a loss for words except for now. Thank you all," said Lokey after being presented the award.
Asked in her interview what it would mean to be named Cobb TOTY, she said "I would be proud because of all the people I have worked with who have made me a better teacher."
Mrs. Lokey, a social studies teacher, was named the Middle School Teacher of the Year in July. In her 31-year teaching career, she has been selected as Teacher of the Year at four different Cobb Middle Schools — Dodgen. Lost Mountain, Smitha and Campbell. This is the first time she has advanced to the system level.
Whenever she has been in a position as an academic coach, teaching other teachers, or in other non-teaching positions, she always wanted to be back in the classroom. "I love doing teacher training but I always go back to the classroom," she said.
"The teacher I am today is because of the support from other teachers and the district officers.
CampbellMiddle School is an InternationalBaccalaureateSchool.
From the September 2013 issue of The Bright Side, Cobb County Georgia's Newspaper covering Smyrna, Vinings, Mableton and Austell, GA.