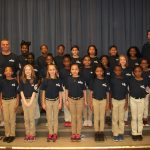 Twenty-two students and one teacher from Russell Elementary School in Smyrna are making the final preparations for their 18th simulated space mission on May 12 and 13. This unique, one-of-a-kind program was started by Chris Laster, a former USA Science Teacher of the Year, during the 1997-1998 school year.
Since September, selected 4th and 5th grade students have been studying to complete an eight month course of training which includes learning 160 acronyms and 100 abbreviations, designing and programing the mission payload, completing an EVA (Extra Vehicular Activity…a spacewalk), and planning for seven different abort scenarios. Four astronauts and the teacher in space, who will surpass over 200 hours in the simulator during this mission, enter the simulator Thursday morning and exit Friday afternoon.
Mission time is spent in the 164 square foot Intrepid Simulator. This is the roughly the same amount of space in the real Space Shuttle's crew compartment. While the astronauts are conducting experiments in space, the students who make up the Blue team and Red team man their very own Mission Control by tracking data, telemetry, and solving any problems that occur.
Two of the astronauts who are licensed ham radio operators will be monitoring frequency 28.340. On that frequency, they could potentially have contacts from all over the world if the conditions are good in the ionosphere.
All parts of the mission will be broadcast live on YouTube via the team's YouTube channel. www.youtube.com/user/russellapaceteam
The on-site space shuttle, "The Intrepid," is named after the USS Aircraft Carrier that is decommissioned and located in the port of New York.
The launch will occur on Thursday, May 12 at 10:30 a.m. and the landing will take place on Friday May 13 at 12:30 p.m.
From the May 2016 issue of The Bright Side, Cobb County Georgia's Newspaper covering Smyrna, Vinings, Mableton, Powder Springs and Austell, GA.