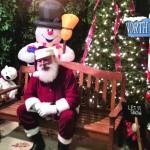 The Holiday Season kicks off with Christmas Tree Lightings, Santa visits, and food and fun and music for all in the Smyrna-Vinings area.
SMYRNA VILLAGE GREEN
Join Santa as he lights the Christmas Tree on Smyrna's Village Green amid music, fun and food. on Tuesday, Dec. 2 from 5 -8 p.m. for "Coming Home for the Holidays."
Enjoy holiday festivities and musical performances at the Smyrna Community Center and see Santa light the big Christmas Tree on the Village Green at 7 p.m. Bring the entire family for all of it and ring in the season downtown. This event marks the first official evening of holiday lights in the downtown.
PHOTOS WITH SANTA
The City of Smyrna and the Smyrna Optimist Club will welcome Santa again this year at Aunt Fanny's cabin on Atlanta Road across from the Smyrna Market Village. Children can visit Jolly Old Saint Nick following the tree lighting and at Santa House (in Aunt Fanny's cabin) on Dec. 6, 7, 8, 13, 14, 15, 20, 21, 22 and 23 from 6 to 8 each night. Donations for the pictures with Santa are given by the Smyrna Optimist Club to the Police Department's "Shop With a Hero" program.
Skip those long lines at the mall for expensive Santa pictures! On Sat., Dec. 6, bring your family to Keller Williams Cityside at 3350 Atlanta Road, Smyrna, from 11 – 1:30 to have their picture made with Santa in exchange for a donation of a new, unwrapped toy to be donated to Cobb Christmas. Refreshments will be provided.
AUSTELL
The City of Austell will hold its Annual Christmas Tree Lighting on Friday, Dec. 5. This free community event will begin at 6 p.m. at Collar Park, 2625 Joe Jerkins Boulevard, adjacent to the City Hall/Police Department Complex.
The event is sponsored annually by Mayor Joe Jerkins and the Austell City Council to welcome the holiday season.
In addition to the tree lighting, all of the holiday lights in the city will be turned on.
Local school choirs will provide musical entertainment. Free hot dogs, hot chocolate, and pastries will be served. Santa and Mrs. Claus will arrive on his sleigh and everyone will have the opportunity to tell him their favorite Christmas wish. For more information, please call 770-944-4309.
VININGS JUBILEE
The annual holiday event in Vinings brings family, friends and neighbors together for an evening of holiday fun during the Vinings Jubilee Christmas Tree Lighting. This year's event will be Thursday, Dec. 4 from 6-8 p.m. in front of the Clock Tower for holiday music, delicious treats, reindeer pony rides, Vinings Express train rides, face painting, balloon twisting, and special guest Santa Claus.
You won't want to miss pictures with Santa Claus, live holiday music performances by local schools, or our holiday drawings and giveaways. The Annual Christmas Tree Lighting is a free community event sponsored by Paces Holdings, the Vinings Jubilee Merchants and the Vinings Civic Club.
From the November 2014 issue of The Bright Side, Cobb County Georgia's Newspaper covering Smyrna, Vinings, Mableton and Austell, GA.