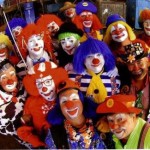 The largest Shrine Circus and Fair in North America is back for its 71st year May 3-12 at Jim Miller Park.
Packed with more excitement and thrills than ever, this year's Tarzan Zerbini Circus features several new acts including a magnificent Big Cat Extravaganza, Brian Miser- the Human Fuse, and Simon Arestov, the Comedy Strong Man. The Myers International Midway will add to the fun with several new attractions and amusement rides. Come be entertained and amazed, laugh at the Shriner Clowns, then fill up on all your favorite fair foods- corn dogs, funnel cakes and cotton candy, just to name a few.
The Midway opens at 5 p.m.; Saturday at 10 a.m.; Sunday at Noon. Circus performances are 11 a.m. and 7 p.m. Monday through Friday (except no 11 a.m. May 7 & 9); Saturday at 11, 1 4, and 7 and Sunday 1 , 4 and 7. A "Sneak-A-Peek-Ride-A-Thon" on Thursday, May 2, $15 with unlimited rides (Only Carnival and food).
Gate Admission includes unlimited performances to the circus on any given day and access to the grounds for the Carnival Midway. Adults – $10; Children – ages 6-11; $6; Free for children 36" and under. Ride Tickets:            $1 each, all rides require more than one ticket. $10 for 10 tickets; $20 for 22 tickets; Unlimited Ride Specials: $25 pay-one-price unlimited rides per person any day with paid admission. Parking is $5 per vehicle.
Led by incomparable Ringmaster Richard Curtis, the 71st Annual Yaarab Shrine Tarzan Zerbini Circus and Fair will delight and excite your family like never before. Watch the Ives Brothers perform daring motorcycle stunts, the Flying Cortez will amaze with spectacular aerial feats and the Big Cat Extravaganza will certainly delight you. For the first time in Marietta, don't miss Brian Miser, launching from the world's largest crossbow. The Shrine Circus Clowns and Patricia Zerbini and her Elephant Act will add laughter to all the thrilling entertainment.
Myers International Midways, always synonymous with quality family entertainment, will feature an enormous selection of Kiddy/Family rides.  Myers is proud to introduce several new features and rides this year, including a new LED light package on their Gondola Ferris Wheel as well as Vertigo, the 125-foot suspended swing ride.
Get ready for a food feast!!  All the good stuff like pizza, funnel cakes, homemade ice cream, corndogs, cotton candy, candy apples, fluffy fries, hamburgers, hotdogs, cheese steaks, elephant ears, Polish sausage, Italian sausage, barbeque, home fries, fried Oreos, roasted corn, sno-cones, apple dumplings and more.
The circus will be at Jim R. Miller Park, 2245 Callaway Road, Marietta. For more information go to www.circus2013.com.
From the April 2013 issue of The Bright Side, Cobb County Georgia's Newspaper covering Smyrna, Vinings, Mableton and Austell, GA.