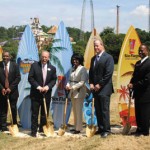 Six Flags Over Georgia officially broke ground in September on HurricaneHarbor, a massive new tropically-themed water park, opening May 2014. Park President Dale Kaetzel was joined by CobbCounty dignitaries to participate in the golden-shovel ceremony.
HurricaneHarbor is the largest expansion in park history, as well as the largest capital investment for Six Flags Entertainment Corporation for its 2014 season. The multi-million dollar project, which includes an 800,000 gallon wave pool, children's interactive area, multiple slide complexes and other amenities, is the first step of a multi-year plan that includes future expansion of the water park into an adjacent parcel of undeveloped land.
"we asked our guests what they wanted," stated Dale Kaetzel, park president, Six Flags Over Georgia and Six Flags White Water. The overwhelming answer was a water park at Six Flags. He noted that the addition will not take away from White Water in Marietta.
"Six Flags Over Georgia has been a longstanding hallmark of South Cobb for the past 46 years and our commitment to this region remains strong as we begin construction on HurricaneHarbor," he said.
Other dignitaries in attendance at the ground-breaking ceremony included: Commissioner Lisa Cupid, Cobb County Board of Commissioners; Commissioner Helen Goreham, Cobb County Board of Commissioners; Vice President Brooks Mathis, Economic Development at Cobb Chamber of Commerce and Executive Director of Cobb EDGE; County Manager David Hankerson, Cobb County; Chairman Ford Thigpen, South Cobb Redevelopment Authority; Director Michael Hughes, Office of Economic Development Cobb County; John Odum, Senior Vice President of Six Flags Park Operations for the East Coast.
The groundbreaking took place in conjunction with the South Cobb Redevelopment Conference, which hosted a group of stakeholders, developers, economists and leaders from the local, state, and federal agencies to explore CobbCounty's redevelopment opportunities. The event aimed to define the need for revitalizing the area, identify financial tools and incentives to maximize investment and explore options to improve quality of living, reduce crime and prevent further property value erosion. Keynote speakers at the conference included Sen. Bob Corker and Sen. Johnny Isakson.
Six Flags Over Georgia had an economic impact of $175 million for its 2012 season, according to Cobb Travel and Tourism officials. With the addition of HurricaneHarbor, complementing the park's world-class ride and entertainment package, that economic impact is expected to grow.
"After continued success at Six Flags White Water, located in Marietta, we are excited to be expanding our water park presence with this unique tourism attraction."
From the October 2013 issue of The Bright Side, Cobb County Georgia's Newspaper covering Smyrna, Vinings, Mableton and Austell, GA.