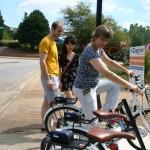 A Bike Share program has begun in Smyrna, making it easy and affordable to "Enjoy Smyrna Life – Ride a Bike" with Zagster bikes, stations and borrow/riding system.
"Over the years, the City of Smyrna has made an investment in our trail network, and throughout Smyrna, residents and visitors use these great trails for fitness, for fun, and even for their daily commutes. Our bike share program will expand the opportunities for everyone to enjoy these trails, whether they want to take a quick ride to the coffee shop or the park, or trek down the Silver Comet," explains Teri Anulewicz, Council representative for Smyrna's downtown ward who presented the concept to City staff after using the bike share program in Austin, Texas in late 2014.
The program offers bike rental from three sharing stations, located at the Smyrna Public Library on the Village Green, at Taylor-Brawner Park on Atlanta Road along the multi-use trail, and near Jonquil Park along Spring Road which is the corridor that stretches from downtown Smyrna to the Cumberland District and the new Braves stadium complex. A fourth location will be announced soon and one is planned at the proposed Jonquil Village.
With four bikes at each station, the program is beginning on a smaller scale to allow for evaluation for future expansion. The ease of use, however, is huge. There are two ways to join. Go to the website   www.zagster.com/smyrnaga or download an app for iPhone and Android from iTunes or Google Play. You may also borrow bikes using SMS text messages
"It's simple. Borrow, unlock, ride and then return, but wear a helmet. When you are done, return the bike, lock it in the Zagster station and close the lockbox and tell the app to end the ride. It's really that easy," said Steve Ciaccio, City of Smyrna Parks & Recreation Director.
Rides are free for the first four hours. After that, there is a $5 an hour charge – up to $40 per ride.  The bikes, called "Cruisers," have adjustable seat heights that fit adult riders, front and rear lights for nighttime visibility, a basket for storing the "U-Lock" while you ride, seven gears that allow riders to go anywhere, and fenders and a chain guard to keep you clean while riding.
From the October 2015 issue of The Bright Side, Cobb County Georgia's Newspaper covering Smyrna, Vinings, Mableton, Powder Springs and Austell, GA.