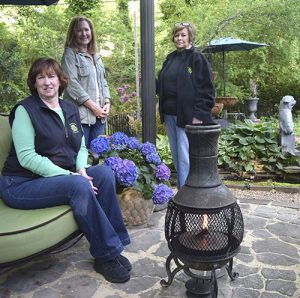 The 2018 Keep Smyrna Beautiful Garden Tour will lead visitors though five beautifully landscaped private gardens within the community.
The Tour is Saturday, May 19 from 9 a.m. and 4 p.m. Advance tickets are $15 ($20 the day of the event).
The gardens offer an assortment of sizes, styles, terrain, and plantings to ensure each visitor leaves with at least one idea they can use in their own garden.
"This is the 10th anniversary for this wonderful event and Keep Smyrna Beautiful intends to make it exceptional," said Janet Liberman, Executive Director Keep Smyrna Beautiful.
Though you may begin your tour at any of the garden locations, tour organizers recommend your first stop be at the newly renovated Reed House. The 1910 historic home on Atlanta Road will host a plant sale, sponsor tables, a raffle of great prizes, and refreshments. The tour is self-guided between the hours of 9 a.m. and 4 p.m.
Keep Smyrna Beautiful is honored to have the Charyn Darby Foundation as the tour's presenting sponsor for yet another year.
All proceeds of the tour will be awarded in grants to Smyrna area schools in support of gardening, recycling and academic goals.
Tickets can be purchased now at the Smyrna Community Center, Smyrna Recycling Center and other neighborhood retail establishments: Vickery Hardware, Love Street and Neighbors Feed and Seed. Tickets may also be purchased with credit cards thru KSB office Monday – Friday. Call Keep Smyrna Beautiful at 770-431-2863 for more information.
Here is just a brief description of the beauty and creativity you can expect to see on the tour:
The Freeman garden is a two-acre visual feast of hydrangeas, roses, bridges, hollies, rhododendrons, ferns, waterfalls, and more. The home has been featured on the Atlanta Botanical Garden Tour.
The Bennett garden offers ideas on how to reuse and recycle in your garden. The owner-constructed and maintained garden offers koi and turtle ponds, a circular patio and arbor nested between planting beds.
The Jordon's took a mature garden from a previous owner and put their stamp on it. The Jordan's set out to create a garden that would be easy to care for in their retirement years by replacing grass for flowering shrubs and perennial beds. The back garden offers raised vegetable beds and pea gravel paths.
The Lindley garden is a peaceful sanctuary tucked within the busy streets of Smyrna. The garden is home to a variety of roses, boxwoods and maple trees. Bird houses and fountains bring many feathered friends to the garden.
The Kirk garden was designed to accommodate a steep slope and drainage. The backyard features a koi pond, dry creek bed and kitchen garden. The homeowner has incorporated plants from her childhood along with heirloom roses and other flowering perennials.
From the May 2018 issue of The Bright Side, Cobb County Georgia's Newspaper covering Smyrna, Vinings, Mableton, Powder Springs and Austell, GA.